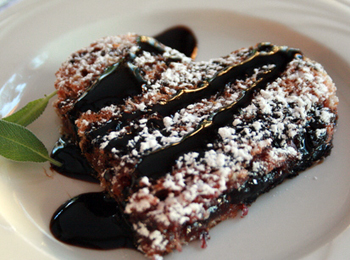 For each sandwich:
2 slices whole grain bread
Nutella
Premium Fruit Jam or Preserves
Butter
Powdered sugar
Fruit syrup or Balsamic Syrup
Lay bread slices on work surface. Spread one slice with a generous layer of Nutella. Spread jam on the other slice. Bring slices together to form a sandwich.
Spread soft butter on top of sandwich. Place, butter side down, in a non-stick skillet. Cook over medium heat until bread is golden. Spread butter on top side of sandwich. Flip over and brown. Place a heavy pot or pan on top of the sandwich to weigh it down, creating a panini-like sandwich. Transfer grilled sandwich to work surface. Use a heart-shaped cookie cutter to cut a heart shape from the sandwich. Remaining parts of sandwich become the cook's treat.
Place on plate. Sprinkle with powdered sugar. Drizzle with syrup. Serve warm.
- Recipe courtesy of Sue Doeden