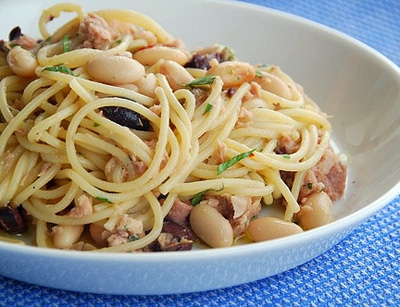 When I was a kid growing up in Rhode Island, I never could understand all the fuss some families made about Christmas Day dinner. It always seemed weird to me. After all, who could eat a huge ham or turkey dinner after a gargantuan Christmas Eve feast?
Of course, when I got a little older, I realized that not everyone celebrated the Italian Feast of the Seven Fishes on Christmas Eve. I thought that was weird too.
Turns out it's not weird at all. The Italian Feast of the Seven Fishes, is celebrated primarily among southern Italians. And Rhode Island, the state with the highest percentage of Italians, is home to many southern Italians.
This centuries-old feast celebrated on Christmas Eve has its roots in Medieval Italy and the Roman Catholic tradition of abstinence. When Catholics abstained from meat on holy days, they typically ate fish. Why seven types of fish? Historians believe it may be symbolic of Roman Catholicism's seven sacraments. Why Christmas Eve? Because Catholics would await the stroke of midnight, which was the time for the birth of the baby Jesus. That also explains why so many Italians attend midnight mass on Christmas Eve.
Of course, it's not always easy staying awake after savoring a seafood dinner of epic proportions. Though most families enjoy classic southern Italian dishes such as fried smelts and linguine with white clam sauce, many families (like my husband's) have their own specialties, such as Gram's stuffed squid in tomato sauce.
For my family it was pretty much the same every year. A first course consisted of fried smelts, fried calamari, snail salad, and boiled shrimp cocktail. Then came two pasta dishes such as pasta aioli (pasta made with olive oil, garlic, and pepper) and linguine with mixed seafood.
Then for the finale: baked stuffed shrimp with a side of sauteed garlicky broccoli rabe. Most of us were too full to eat the baked stuffed shrimp, since it was last course in a dinner that stretched over 4-5 hours. Plus you had to save room for cheesecake and Italian Christmas cookies, such as pizzelle, biscotti, and pignoli cookies.
When we don't make it home for Christmas Eve, Jeff and I usually make a big bowl of linguine with white clam sauce and reminisce. We just make sure there is a box of tissues nearby, since tears of laughter and sometimes sadness usually arise.

You don't have to be Italian or even celebrate Christmas to enjoy my Quick Italian Tuna and Olive Pasta. This flavorful dish is deliciously simple to make and simply delicious to eat anytime of the year.
Quick Italian Tuna and Olive Pasta
This fast and easy Italian tuna pasta is simple enough to become a weeknight go-to meal yet elegant enough to serve for a holiday or special dinner party. I recommend using a top quality tuna packed in olive oil, such as Flott, which can be found in most Italian specialty markets.
Makes 4 servings
2 (5-6 oz) cans or jars of Italian tuna packed in olive oil
1/2 cup sliced olives, such as Kalamata and green Cerignola
1 1/2 cups cannelini beans, rinsed
2 teaspoons lemon juice
the zest of half of a lemon
2 tablespoons finely chopped fresh parsley*
1/2 teaspoon crushed red pepper flakes
3 tablespoons extra virgin olive oil, divided
1/2 pound spaghetti
salt, to taste
In a large bowl combine tuna with its oil, sliced olives, beans, lemon juice, lemon zest, parsley, and red pepper flakes. Then stir in 1 1/2 tablespoons of extra virgin olive oil until well combined.
Cook pasta in a large pot of boiling salted water, uncovered, until al dente. Drain in a colander and return to pot. Add the tuna mixture to the pot and toss well. Stir in remaining 1 1/2 tablespoons of olive oil until pasta is well coated. Warm until just heated through. Season with salt to taste. Serve immediately. Garnish with additional chopped fresh parsley and a drizzle of extra virgin olive oil.