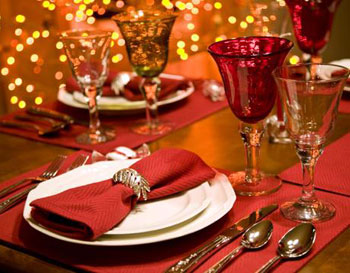 Ever since reading Rousseau's On the Origin of Language
, the idea of the origin myth has compelled me to wonder at the root of things. I treasure the O.E.D., find it fascinating that Hammer Pants were born out of misread lyrics during development of the U Can't Touch This video, and relish in the ongoing debate over how the Caesar salad came to be.
As with the Caesar salad, I'm intrigued by things with no definite origin – thereby inviting invention – like how Rousseau posits that language originated with a boy wanting to talk to a girl while collecting water for their respective families.
In this fashion, I'm incited to uncover, or create the origin of one side of my family's Dungeness Crab Christmas Eve tradition. But first it'll help if I briefly explain my family, and my relationship to Christmas.
Suffice to say my family fits well into the postmodern framework: fractured, multiple centers, consider any single member and you'll discover a constellation of relationships. So I'll leave it at this: a name means as much as a title. I have parents and siblings.
Growing up a Chanukah child, I recall three vanity Christmas trees between my two homes, until my parents remarried when I was twelve. Then Christmas kicked in on my dad's side with Anne, and made a few appearances at my mom's with Peter until he converted and increased the menorah quotient.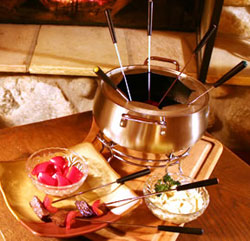 On Christmas Eve with my dad we'd observe Anne's tradition of beef fondue dinner, then presents. The formula was passed down from Anne's childhood in Oberwesel, Germany, where her siblings and she would line their shoes up by the door on Christmas Eve, and after dinner discover gifts stuffed inside (an ingenious plan to prevent early risers from pouncing on parents).
For beef fondue, Anne would prepare a trifecta of dipping sauces: punchy dill pickle, creamy egg, and a light chive. She'd set up several bubbling fondue pots flanking a platter of delicately sliced filet, and serve salad on the side. That's the Christmas I remember when Dorothé and I were still in High School, and Hannah was still a baby.
Then Dorothé went to college. Then I went to college. Then our parents split. And our Christmas tradition took a hiatus while we decided how to define our fractured family.
Fortunately, we came to the conclusion that just because the five of us live between four households, that doesn't mean we're not a family. And Christmas dinner was reinstated, with a slight change.
The clanking of fondue forks gave way to the sounds of cracking into crab shells, a new tradition that spontaneously arose without suspicion or protest. It worked swimmingly.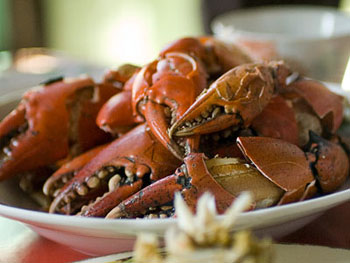 Crab dinner followed the theme of a central plate from which everyone shares, as well as the accompaniment of three dipping sauces: in this case lemon juice, melted butter, and that timeless mayo/Dijon mix we simply call "the sauce." It makes regional sense as a California holiday dinner given Dungeness crabs are in season. (My friend Giovanni told me his mom marinates the crab in olive oil and herbs for their Christmas dinner.) And most importantly, crab replaced fondue as a simpler yet equally lavish meal, involving minimal preparation and even quicker cleanup (crumpling up the butcher paper littered with shell fragments and the Jackson Pollock splotches of spilled sauce and wine is a superlative signal of gifts well enjoyed).
In another respect, I see the origin of our crab tradition as an instrumental point in having reasserted our relationships by focusing on family through festivity. The first time we had crab for Christmas Eve was the first time my dad, Anne, Dorothé, Hannah and I all returned to the same table after the split. That year Dorothé brought Jake home, I brought Kishu, and we not only realized we'd need more crab, but that our growing family gave us new reason to celebrate a changing dynamic.
Since then, Christmas Eve marks the one time of year we reassemble from our various homes to celebrate our place in each other's lives. The ease and indulgence of the crab feast facilitated the fluidity with which we've come to understand our family as a cohesive unit, regardless of any fissures.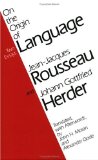 In Rousseau's story, language arises out of an inherent need to communicate. Neither the boy nor girl has the tools necessary to do so because they've only lived in their insular families. The watering hole marks the first time either person has come into contact with someone new, and language allows the boy and girl to explore this exciting new dynamic.
In my story, language is already present… sometimes too present given the invasive semantics of step-this and half-that. What we needed was something to help us return to one another and forget about the divisions urged by semantics. In the crab Christmas Eve dinner, we found a tradition to help us locate what we needed to be immediate: family.
I've learned that this Christmas Eve, we'll be having beef fondue again. I'll miss the crab, but look forward to Anne's famous homemade sauces. Maybe the fondue redux indicates that we've accomplished something in the crab years. Maybe it signals a new phase in our family: a return to what we already have established, with the understanding that no matter what structure our family takes, no matter who lives where or with whom, we're a family. And no matter what's for dinner, it tastes best when we enjoy it together.
Louis Gropman writes and lives in Los Angeles, CA and New York, NY.