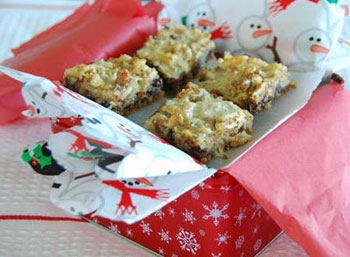 Spending countless hours trapped in a cold, dimly lit basement -- that's what I remember about Christmas.

In fact, it's my favorite memory of Christmas. I don't remember gifts I gave or received (except for my pink Huffy bike in 1979), but I do remember making Christmas cookies with my mom, which we did together for 20 years. Each year, it was a massive project that began in the market, moved to the kitchen, and was completed in the basement.

After numerous trips to the grocery store to buy obscene amounts of flour, sugar, butter, eggs, and chocolate, we would bake for 4-5 days straight, making about 2,000 cookies (that is not hyperbole).

Everyone got a tray of our cookies, including the paper boy. It got to the point that people would make special requests of my mom: please put more biscotti or pignoli cookies on their tray.
My mom never complained; she had the patience of a saint. Even when I added baking soda instead of baking powder (which I did) or dropped eggs down the front of the refrigerator (did that too), she never yelled. She always said something like, "That's alright, honey. It can be cleaned up." Then we would start the recipe over again.
By day three we were dwarfed by stacks of cookies. By day four my mom would begin fretting: "How will we ever get them all done?" Somehow we always did.
After we finished whipping and rolling and sprinkling, we took the finished cookies into the basement and started an assembly line on our old air hockey table. I assembled the trays, mom wrapped them in cellophane, then we'd decorate them with ribbons and name tags.
We would laugh and sing Christmas carols along with Bing and Frank and Rosemary on the radio. We did this till our backs ached and our feet swelled, then we did it some more, fueled by eating the occasional defective pepper biscuit or fig bar that did not make the cut.
My mom still bakes Christmas cookies, but on a much smaller scale. She even FedExes our favorites to us when we can't make it home for Christmas.
My all-time favorite Christmas cookie is the chewy, gooey, chocolately, nutty Hello Dolly. They're ridiculously easy to make (about 10 minutes to assemble and 30 to bake) and guaranteed to please.
Since a decorative tin filled with Hello Dollies beats the heck out of a sweater, consider giving them for a holiday gift.
Hello Dolly Cookies (also known as Magic Bars)
Print recipe only here.

1/2 cup butter, melted
1 1/2 cups graham crackers (about 8 crackers), ground in a food processor
1 cup semi-sweet or bittersweet chocolate chips
1 cup sweetened shredded coconut
1 cup coarsely chopped walnuts (or pecans)
1 14-ounce can sweetened condensed milk

Preheat oven to 350°F or 325°F if you're using a glass baking dish.

Melt butter in a small saucepan on the stove top.

Place graham crackers in a processor and pulse until they become crumbly. Combine them with the melted butter and place in an 8 X 8 baking dish, patting the crumb mixture down evenly with your hands. Layer the chocolate chips, coconut, and nuts on top of the graham cracker mix. Pour the sweetened condensed milk evenly over the entire mixture.

Bake for 25-30 minutes, or until the top is light brown.

Let cool completely before slicing.

Note: To make slicing the cookies easier, put the cooled baking dish into the refrigerator until slightly chilled. (Thanks, Mom!) Cut into bars or small squares (having a ruler isn't a bad idea). For Christmas trays, my mom places them in those miniature tinfoil coated cookie wrappers--they look festive and won't stick together that way.
Susan Russo is a free lance food writer in San Diego, California. She publishes stories, recipes, and photos on her cooking blog, <Food Blogga and is a regular contributor to NPR's <Kitchen Window. She is also the author of Recipes Every Man Should Know
and The Encyclopedia of Sandwiches
.