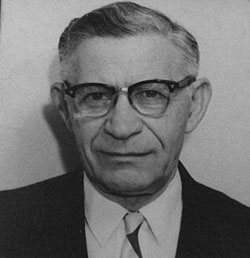 I associate mail order food with my father. When I was growing up, he and I had very few connections. He took me to only one professional football game. He never came to Back-to-School Night and had no interest in any of my hobbies. I remember him as dour, not very talkative and disapproving. I was part of his second family and he was, I'm certain, just a bit too old to have a young kid running around.
Added to that, my father was burdened by tragedy. He was the eldest son of a prosperous Jewish family in Odessa on the Black Sea. Unfortunately when the Russian Revolution swept across the country, Bolsheviks rampaged through his neighborhood, lining up and shooting many people, including my father's family. Being Jewish and well-to-do were two strikes too many at a time when "line them up against the wall" was taken literally.
Luckily for my father, when all this happened, he was studying at the University of Kiev. He learned later that his mother had survived because she had very thick hair. When she was shot at point blank range, the gunpowder was apparently so weak that the bullet merely lodged in her hair, knocking her unconscious and otherwise leaving her unharmed. My father never returned home to Odessa, having been told that he needed to flee the country, which he promptly did.
This is a long way of saying that my father spent his entire life reacting to this tragic event. The few times I remember him being happy was when he watched wrestling on TV (remember Gorgeous George?) and when the mail order food packages arrived during the holidays.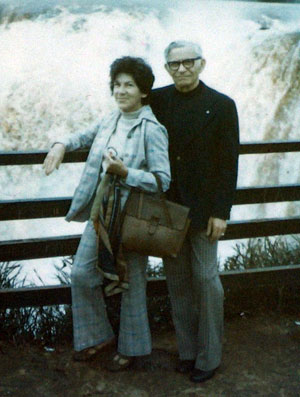 I was convinced that those packages reconnected him with happier memories of his family in Odessa. I remember watching him at the dining room table as he unpacked the treats he'd ordered: wine soaked cheddar in crocks, salamis rolled in herbs, specialty English crackers, chocolates from Belgium, tins of anchovies and sardines, glass jars with Italian antipasti, pasteurized caviar from the Caspian Sea, and cellophane wrapped packages of Russian black bread. He would get out a plate and encourage my mother and myself to share them with him. It would take him several days to finish everything and in that time he would munch away contentedly, a smile on his face.
But for my mother, those packages were an issue of contention. To her they were an extravagance. We had to watch our expenses in those days and we couldn't afford such luxuries, but my dad was old school and felt that this was one of his few pleasures and he should be indulged. Unfortunately my father had inherited his family's love of the good life without having inherited their wealth.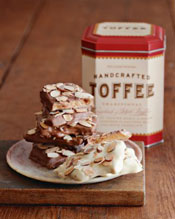 My dad died some years ago, my mom in 2006, but when the holiday catalogues start to arrive around Thanksgiving, I relive their debate about mail order food. The catalogues I enjoy the most are from Williams-Sonoma and Sur La Table with their exquisite photographs and seductive descriptions. I look lovingly at the boxes of Handcrafted Toffee, Cream-Nut Milk-Chocolate Peanut Butter Clusters, Perfect Endings Cupcakes, Chocolate-Dipped Peppermint Moravian Cookies, wheels of Stilton Cheese, the D'Artagnan Pate Collection, and the Niman Ranch Applewood Smoked Ham. And I am seriously tempted to buy something.
Then I look at the prices and I return to my senses. My mother taught me all too well. Her reproof to my father that mail order food is too expensive rings in my ears and, besides which, as she and my grandmother always said, "Never buy retail." And yet, that smoked ham sounds really delicious, as does the handcrafted toffee, and there would be the added pleasure of connecting with my father who, for all his many faults, did imbue me with a love of good food.
David Latt is an Emmy-award winning television producer who turns to cooking to alleviate stress. He shares his experiences with food and his favorite recipes on his blog Men Who Like To Cook.