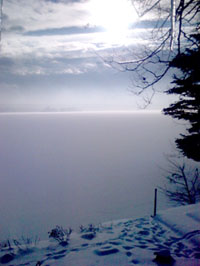 We have the same meal every Christmas Eve, because it is just perfect! Not too difficult, things can be made in advance, and it is oh so good! Off to the Maine coast we go to get Glidden Point oysters right from the grower, pick up our lobsters that we have pre ordered and then a quick stop at the grocery store...and we start to cook.

The menu:
Leek saffron broiled oysters
Baked stuffed lobsters with crab meat
Caesar Salad (you are on your own)
Chocolate molten cake
and lots of Champagne(on your own again)

THE OYSTERS:
Sauté one julienned leek, just the white part, in butter till softened, add a 1/4 cup of sweet red peppers, cut also into julienne shape. Slowly cook these together. Add two teaspoons of saffron to this mixture, stirring till you can smell the saffron. Add 1/2 cup Champagne or White wine and let cook down till 3-4 tablespoons are left. Add 1 cup heavy cream and cook down till you have a half cup. The sauce will be quite thick. Refrigerate till needed.
I allow 6 oysters per person. I put all my oysters on a cookie sheet and place it in a 400°F oven till they just open a small amount. This will not cook them, just warm them enough to be easy to open.
Pop the shells open, loosen the oyster and place the ready oysters on a new cookie sheet or metal platter which you have covered with 1/2 of kosher salt.
After all the oysters are shucked, drain and strain 1/3 cup of the oyster liquid that is left and add that to the leek saffron sauce. This will make it a perfect consistency. Spoon enough sauce over each oyster to cover and place under the broiler till you see little golden brown spots over the sauce.
This happens fast, stay at the oven till they are done...
BAKED STUFFED LOBSTERS
1 pound and three quarter lobster per person
1 pound of Maine crab meat per 4 lobsters
2 sleeves of Ritz crackers, coarsely crushed with a rolling pin
½ pound melted butter (unsalted)
¾ cup grated parmesan, save ¼ cup for the top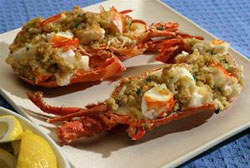 I parboil my lobsters in boiling water for 5 minutes till they just start to turn color, not red. Remove from water and let cool till you can handle them. place the lobster on its back exposing the underside, take a large knife and cut from the head to 2 inches into the tail, but don't cut through the bottom shell. Open the the slot with your hands so it will hold enough stuffing. There is a sand sac in the head area, feel around with your finger, it is hard like cartilage, remove and discard. Scoop out the green tomalley out of the body and reserve.

Stuffing:
Melt the butter, and cool slightly. In a large bowl place the crushed Ritz crackers, the crab meat, 1/2 cup grated parmesan, the green tomalley and the melted butter. With your hands combine these ingredients till they just hold together. Stuff into the lobster cavity evenly and dust with the remaining parmesan. Bake on a cookie sheet at 350°F for 25 minutes.
I like to put them under the broiler till they are gold on top. I serve them with melted butter that I have added crushed garlic and lemon juice to. This is really rich and needs only a salad!
CHOCOLATE MOLTEN CAKE
4 tablespoons butter
1/3 cup sugar
8oz bittersweet chocolate
1/3 cup flour
pinch of salt
cocoa powder for dusting
Set oven to 400°F and place rack in the middle of the oven
Butter four small 1/2 cup ramekins well and than sugar the insides
Melt 8 oz. of good bittersweet chocolate over a double boiler, take off heat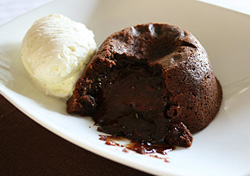 In a mixer cream 4 tbsp. butter with 1/3 cup sugar until it is a light yellow color, about 4 or 5 minutes. Add 3 eggs, one at a time until just combine. On low speed add 1/3 cup flour and a pinch of salt.
Take bowl off the mixer and gently fold in the melted chocolate until just combined. Pour into the prepared ramekins, place on a cookie sheet and bake for 8-10 minutes until the top is just set.
Remove from oven and let sit to cool for 5 minutes. Invert onto a dessert plate, serve with ice cream and dust with cocoa powder.

Happy Holidays from our table in snow blanketed Maine!