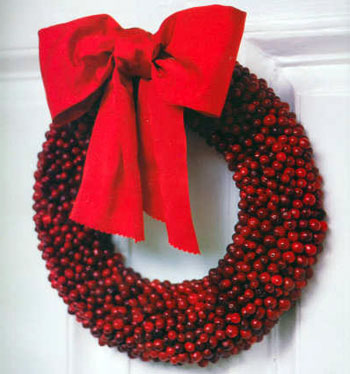 Everyone I know espouses the virtue of a homemade Christmas, and I have to admit that when someone takes the time to make me something I am genuinely touched by the act and the sentiment that goes along with it. That said, have you ever decided to take on a project that grew so far beyond its original scale and intent that you regretted it? As my family and friends can attest to, I am famous for that kind of thing. But something about the holidays seems to blindly motivate me toward this type of endeavor year after year.
Like the time I decided to make "simple" cranberry wreaths just like the ones I had seen Martha Stewart make on her TV show. I bought the requisite Styrofoam forms from a craft store and what seemed like a bazillion toothpicks that would have lasted a family of four a lifetime, as well as several bags of the dark red berries and a few feet of nice green ribbon to make bows with. After going through the first two bags of berries, and Lord knows how many toothpicks, I took my permanently stained hands back to the grocery store to load up on more supplies. The check out girl just laughed at me when I handed her a fist full of pink bills and wished me good luck with whatever I was doing. Twenty four hours later I was a mad man, half blinded from trying to push the toothpicks evenly into the form and wearing thimbles (or anything else I could find) to cover my sore fingers, vowing to complete the task that was now driving me crazy. I was possessed and in the process ruined a favorite shirt and an equally beloved pair of pants.
After what seemed to me an eternity, I eventually finished. Proudly hanging the wreath on my front door, I stood back to admire my handy work. I was overjoyed with the finished product and decided to take a photograph of it for all of posterity (and the likelihood that I would never undertake this task again.) As fate would have it, when I came back an hour later with a camera loaded with newly purchased film, I was distraught to see the carcass of my wreath blowing in the breeze, picked clean by the birds who lay on their sides in the bushes in a post-prandial stupor, laughing at me and the look of horror on my face.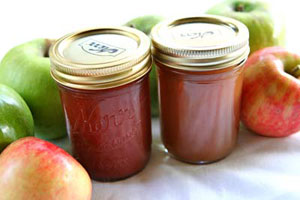 Or the year that I decided to make apple butter for Christmas presents. I bought the various accoutrements required and the most elegant (and expensive) food mill I could find. I searched for the perfect recipe, taste–testing several, and finally decided on just the right one. I even went out and bought a new slow cooker to effectively cook up the many batches that I intended to wow my friends with. I hand picked every apple, examining each one for the perfect color, shape and consistency. Finally the big day came and I was determined to devote every minute of it to creating what I thought would be the perfect gift. I hand drew the labels on old-fashioned mason jars, and carefully cut matching fabric tops and real sprigs of holly to put with each one in an effort to provide the perfect homespun holiday touch. The cooking process, guaranteed to go very slow especially in the huge quantity that I was preparing, started late due to the excessive amount of time I spent in preparing everything. As day turned into night, and eventually stretched into the late night, I awoke sometime after 2 AM to find myself standing over hundreds of dollars of pitch black tar, as the once lovely apple butter concoction turned without a watchful eye and the constant stirring that was required. Not only did I ruin the entire batch, as well as most of the new cooking equipment I had acquired, but I ended up spending the entire next day – and a whole lot more money – shopping for the many presents I had intended to make.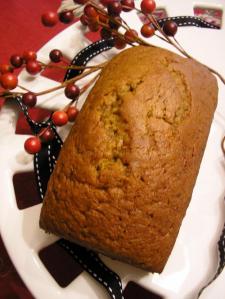 And thus far, this year has proven no different. After surviving a year of economic freefall, resulting in one of the worst economic recessions since the Great Depression, I had the grand idea (once again) of making Christmas presents with an eye toward showing fiscal responsibility (and perhaps justifying my indulgences once again.) But I am happy to report that as I write this missive of trashed Christmases past, I (and my partner in crime, the ever patient Chris) have canned over 100 jars of homemade jams and jellies, and baked over 50 loaves of pumpkin bread, set off in the perfect baskets and settings for the ultimate in homemade gift giving. For this reason, I feel an enormous sense of accomplishment. And the genuine pride, as well as the surprise and gratitude from the various recipients of these gifts, has made it all worth while. Granted, I started practice runs in creating these gifts as early as last August, but don't tell anybody. I want everyone to think it was easy-as-pie or perhaps simply second nature to me. And it is, right? RIGHT? After all, it only took me 15 years or so to get to this point. Practice makes perfect…eventually.
Seale "Brother" Ballenger is a twenty+ year veteran of the book publishing industry and currently works as Vice President and Group Publicity Director for the William Morrow Division at Harper Collins Publishers. He is the author of HELL'S BELLES: A Tribute to the Spitfires, Bad Seeds, and Steel Magnolias of the New & Old South. Seale, his partner Chris, and their two French bulldogs, Maddie and Petey, live in New York City.