With just few ingredients, the quality of each is paramount. Use real butter and the best semi-sweet chocolate and cocoa you can find. Once you mix up the thick, rich batter and spoon it into custard cups, the six desserts can be stored in the freezer until you are ready to serve them. Just pop the frozen desserts into a preheated oven and bake for 15 to 20 minutes. How convenient is that?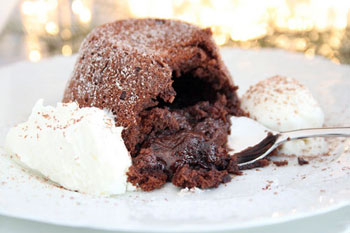 6 ounces semisweet chocolate, chopped

10 tablespoons unsalted butter
1/2 cup sugar

1/2 cup all-purpose flour

3 tablespoon cocoa powder

1/4 teaspoon baking powder

3 eggs
1/2 cup whipping cream, whipped

Premium vanilla ice cream
Coat 6 (6-ounce) glass custard cups with nonstick cooking spray. In a 1-quart saucepan, melt the chocolate, butter and sugar over low heat, stirring until melted and blended. Remove from heat and pour into large mixing bowl. Sift the flour, cocoa and baking powder together.
Add to bowl and mix with an electric mixer on medium speed until blended. Add the eggs, one at a time, beating until blended, then beat mixture for 6 minutes. Spoon batter into prepared custard cups. Cover with plastic wrap and freeze overnight.
Preheat the oven to 375°F. Place the frozen custard cups on a cookie sheet and bake for 15 to 18 minutes.
Remove the cakes from the oven and cool slightly, no more than 5 minutes. Run a blunt knife around the inside of each custard cup and invert the cakes onto dessert plates. Serve with whipped cream and vanilla ice cream.
Makes 6 servings.
Tips from the cook
--Be sure to invert these individual cakes while they are still quite warm. Chocolate will ooze out of the cakes.
--If you are concerned about turning the hot cakes out of the custard cups, use nonstick cooking spray to prepare the custard cups. If you have no worries at all, prepare the cups by coating them with butter and a mixture of half granulated sugar and half cocoa powder.
--If the chocolate that oozes out of the cakes is a little too runny for your liking, just bake them a little longer. For the photo I took of the dessert, I baked it for close to 20 minutes so the inside would be more like pudding, making for a prettier picture. When I am planning to eat the dessert right away, no longer than 15 minutes in the oven results in a thinner chocolate that runs out of the cake when it is pierced, but the chocolate cake shell might collapse. It just takes some experimenting with your own oven to get the result you want.
--Unbaked, tightly sealed desserts can be kept in freezer for a month.
- Recipe courtesy of Sue Doeden