My mother made these for special events when I was growing up and they were always the first thing gone from the dessert table. They are the perfect size for both kids - who rarely finish a whole piece of anything - and adults who want to indulge without feeling guilty. I've changed it up a bit by adding the chocolate chips and a ganache-type layer on top instead of the usual fruit pie topping. If you're going to be bad...
Ingredients:
2 - (8oz) blocks of cream cheese, softened (one can be low-fat but not both, do not use non-fat)
1/2 cup sugar
2 eggs
1 teaspoon vanilla extract
1/2 cup mini dark chocolate chips, more or less to taste (if using regular size chips chop into smaller pieces, so the chocolate cooks appropriately)
1 box vanilla wafers
Foil cupcake liners (Do not use paper liners. They will stick to the cheesecakes.)
1/3 cup chocolate chips for topping, melt more if needed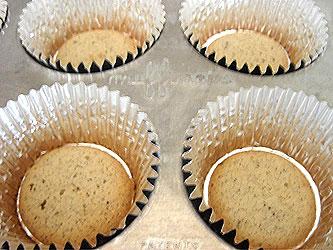 Instructions:
Preheat oven to 375°F.
Place foil cups in muffin tin. Place one vanilla wafer in each foil liner.

Mix cream cheese, sugar, eggs and vanilla in mixing bowl. Beat with mixer till well blended about 5 minutes. Fold in the chocolate chips.

Spoon cream cheese mixture onto vanilla wafer. Fill liners about 3/4 full.

Bake for 13-14 minutes.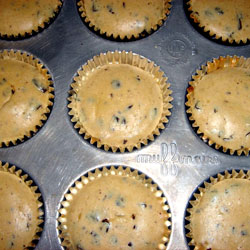 Once out of the oven, melt the remaining chips in a glass container in the microwave at 50% power for 2 minutes. Stir chocolate. If still lumpy, heat again in 30 second increments until smooth.
Using a teaspoon ladle sauce onto still warm cheesecakes, leaving about 1/8 inch around the edge.
Place in refridgerator for about 1 hour to fully set. Remove about 15 minutes before eating.
Bon Appetit!
(LD)

The finished product. It looked so good I couldn't resist.