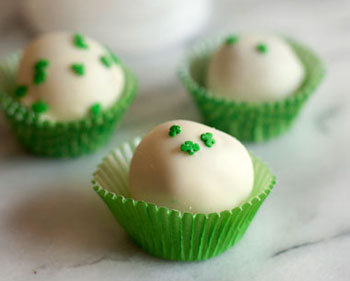 Yield: 48 balls of fabulousness
Ingredients:
10 ounces cups organic, heavy cream
1 vanilla bean, split, seeds removed
16 ounces bittersweet chocolate, finely chopped
1/2 teaspoon espresso powder
1/8 teaspoon Celtic Sea Salt
4 ounces Baileys Irish Cream
9 ounces white chocolate, finely chopped
Instructions:
Place the chopped bittersweet chocolate in a large glass bowl. Place a mesh strainer over the chocolate.
In a small saucepan, combine the heavy cream, vanilla seeds, and the pod. Bring to a boil. remove the saucepan from the stove and pour the warm cream through the strainer and over the chocolate.
Let stand for 1 minute. Add espresso powder and salt. using a heat proof spatula, mix until all the chocolate has melted. Let cool to room temperature (about 1 1/2 hours).
Add Baileys and mix to combine. Place a piece of plastic wrap over mixture (Press the plastic wrap directly onto the chocolate) and refrigerate for 1 hour.
Using a 1 tablespoon ice cream scooper, form balls, roll in the palm of your hands, and place on a baking sheet lined with a silpat mat. When all have been rolled, place in the fridge for at least an hour.
Temper your white chocolate (you can find great instructions here). I have this tempering machine, which my kids think is a toy (lucky me). When the chocolate is ready, dip your cold truffles into the white chocolate, let the extra chocolate drip away and place on the silpat mat. Decorate or not!
Store in an airtight container for up to two weeks.
- Recipe courtesy of Susan Salzman