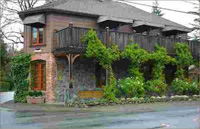 I went to the French Laundry restaurant located in the Napa region (specifically, Yountville, California) in 1996 and haven't been able to get a reservation since – at least until a week ago. Of course, that's what happens when a chef later becomes tops in the U.S. and his restaurant is voted tops in the world. But with one day's notice, I was told my group of four were in. Pack your dinner jacket we were told. They should've added cash out your 401k and clean out your savings account with a scrub brush. The price to party was now $240 per person for a nine course tasting menu (two options: Chef's and Vegetarian) not including wine – a decent bottle (not a case) of which will cost you $200 more.
We flew from LA to the Solage resort in Calistoga and after hydroplaning down Highway 29 during blinding rain we walked in drenched. However, the dulcet tones of our waitress, Shannon, began to right the ship and reconnected me to the magic that I had experienced a decade before when the restaurant was still off the radar.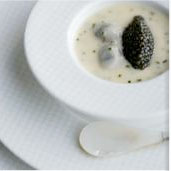 The "Oysters and Pearls" dish - a Sabayon of Pearl Tapioca with Island Creek Oysters and White Sturgeon Caviar followed Salmon "Ice Cream" cone. Both of those dishes have been there since the beginning. And then one gorgeous original museum piece after another interlarded on the menu was plated before us with great solemnity: "Salad of Hawaiian Hearts of Peach Palm" (Andante Dairy Yogurt, Cilantro Shoots and Banana-Curry Gastrique); "Aiguillette of Liberty Farm Pekin Duck" (Purple Top Turnips, Cara Cara Orange, Nicoise Olives and Pea Tendrils); "Brebis Des Pyrenees" (Swiss Chard Subric, Grilled Chard Ribs and Caraway-Mustard Dressing).....

But you have to be in condition for this type of eating and we definitely weren't. The final flight of fancy on the menu is called "Mignardises" which are supposed to be small, dainty confections. Nothing is small and nothing is dainty at the end of a four hour meal. Plus, these confections are so numerous and are presented so quickly that I thought I was in the middle of a food fight.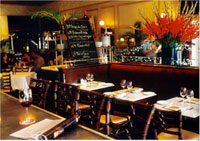 We were staggered but not defeated. Emboldened by our survival and deciding to gild the lily, we made plans to eat at all of the other Thomas Keller establishments in Yountville during the next 24 hours: "Bouchon" – a French bistro for lunch; "Bouchon Bakery" – for an afternoon macaroon snack of pistachio, vanilla, and chocolate varieties; and then "ad hoc" for dinner – his latest venture which is four course family style eating.

My group of friends all agreed that our experience at Keller's Bouchon bistro was probably the highlight of the trip even though it was also the simplest: Raw oysters and clams, mussels and French fries, cod brandade, mixed green salad, and a glass of wine – ok, maybe it was two glasses, or three or ....We hadn't been on a waiting list for 12 years – we walked in off the street and just found four empty seats at the bar.

Nevertheless, I established important contacts on this trip and I hate to see them go to waste. I am assured through certain channels that I have a seat waiting for me at French Laundry in 2020.
Bruce Cormicle is an attorney, writer, and chef who works in Beverly Hills and recently started his own catering company called "You've Been Served".