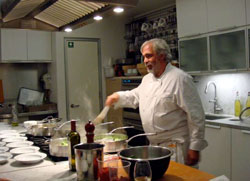 It's fortunate that the world's largest atom-smasher shut down in Geneva, Switzerland this past week and had to be repaired after just ten days of operation. Los Angeles's own human particle accelerator 2003 Bon Appétit Chef of the Year Alain Giraud was gearing up to teach class at the always stimulating Chefmakers Cooking Academy in Pacific Palisades (Chefmakers.com) last Thursday and there is no way these two powerful kinetic instruments could work at the same time if planet Earth hopes to remain on its axis.
(Chef Giraud has a great new restaurant called Anisette Brasserie in Santa Monica and Alain thought he would take a breather from his 7:30 am to midnight duties and teach a class to 26 drooling citizens. I've been there for breakfast and lunch and I can barely chew because I'm smiling so much after each bite.)

Although both probe the secrets of the universe, only this chef can teach me how to cook a perfectly poached egg for his Frisse Aux Lardons, Poached Eggs, and Watercress dish ("Put a touch of champagne vinegar in a ramekin before you break an egg into it"; "Use very fresh free range or organic but not cage free eggs.") The Chef's flexibility with a written recipe was to be admired.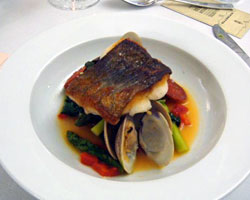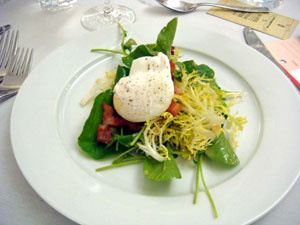 The 4 x 6 card handed out to the students containing the ingredients for the mouth watering Mediterranean Black Cod with Piquillo Peppers, Clams, and Chorizo included 2 cups of dry White Wine. This confounded the Chef. I'm sure he doesn't work off the written word during service and he did a triple take with the container of wine next to the stovetop before deciding he must have meant one cup for the dish and one cup for the chef. He then proceeded to knock the surplus back.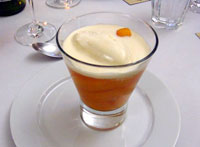 The third dish taught that night was Yellow Peach with Verbena Syrup and Verbena Ice Cream. The organic peaches he got from the Santa Monica Farmer's market on Wednesday drove that dessert into another realm. And he does get his hands dirty at the market every week. Another class I took there involved going with Chef Giraud to the market, watching how he shops and where he shops, then taking the bounty back to the classroom and cook up a lunch.

The owner of Chefmakers is Richard Klein. He knows wines better than any sommelier working in LA and always has a supporting cast of winners to complement the dishes being taught by Alain. (This was the Chef's 17th class he has taught over three years.) This night Richard finessed a quartet of Italian wines to match the totally French fare. (For example, a 2005 Castel Sallegg Sauvignon Blanc sung the praises of the atoms found in the Frissee Aux Lardons ...)

The evening wasn't over before Alain and Richard were already planning their next class together. One that will involve white truffles in every dish. Unfortunately, the market for white tuffles isn't any more stable than the market for stocks and I heard a suggested price that made my legs buckle. That was until I realized that I could just call Boxer and Feinstein and have the Senate pass a White Truffle bailout. There is no way I am missing that class.
Bruce Cormicle is an attorney, writer, and chef who works in Beverly Hills and recently started his own catering company called "You've Been Served".