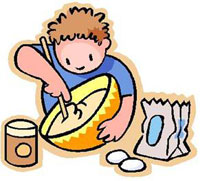 When I was a kid, I was pretty much a geek. At nine I started to stutter so badly that the school put me into a class for "special" students and my parents sent me to a psychologist. The approach favored by the psychologist was to withhold talking until I said something. Since I didn't want to stutter and didn't want to talk to him anyway, we mostly spent 50 minutes in silence.

My father was a pragmatist which meant he figured that whatever was was, so if I was socially awkward and stuttered, that's who I was and he left it at that. My mother however was an optimist. She had proudly attended Hunter Model School in New York and felt that she was part of the liberal intelligentsia that wouldn't rest until the world was cleansed of poverty, racism, sexism, and war. Reading about the latest armed conflict in the newspaper, she would proclaim with frustration, "Why can't people just get along?"

For her son, she had a more attainable solution: breakfast. She asked me one day (I was nine), "Wouldn't it be fun to make your father and me breakfast in bed?" A more socially adept child would have protested that he had baseball practice or friends to hang out with, but since I didn't have anything going on, making them breakfast in bed sounded pretty good.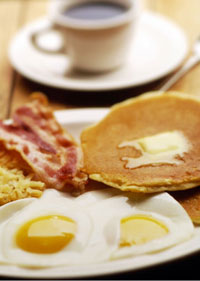 Always being ambitious, breakfast wasn't going to be just toast and a glass of orange juice. If I was going to do it, I would do it with grandeur. My mother showed me the fine art of eggs over-easy (considerably more difficult before there were Teflon pans), to put enough butter in the pan so the hash browns crisped around the edges, to carefully remove the pits from the freshly squeezed orange juice, and to lightly toast the bread so it didn't dry out. Passing through the kitchen my father offered his one cooking secret: finish the bacon in the broiler, dusted with sugar.

As I walked into the room that Sunday morning, my parents pretended to be sleeping. They "awoke" with surprise at the sight of the tray loaded down with eggs over-easy, toast with butter and strawberry jam, hash brown potatoes, freshly squeezed orange juice, coffee with sugar and cream, and (of course) crisp bacon sweetened with sugar. They lavished praise on me, telling me that this was the best breakfast they'd ever eaten. And eat it they did. Every last bit of it.

Thus began my life as a cook.
David Latt is an Emmy-award winning television producer who turns to cooking to alleviate stress. He shares his experiences with food and his favorite recipes on his blog Men Who Like To Cook.