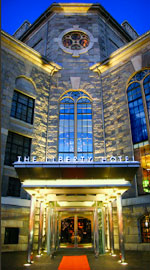 I resisted checking out the Liberty Hotel when it opened last year in Boston's former Charles Street Jail, despite rave reviews of its design and the hip scenes at its first restaurant, Clink, and the Alibi bar. The idea of hanging out in the same place that had held many of the area's most notorious criminals for as far back as I could remember (and then some) just gave me the creeps.

Then Scampo opened, with chef Lydia Shire in the kitchen, and my conviction started to waver. It's not so much that I have to run to every new restaurant opened by all of the city's 'celebrity' chefs. But Shire is one of my favorites. I have been a devoted fan since she started cooking at the restaurant in the former Bostonian Hotel, more than 20 years ago, when I didn't have a clue who was in the kitchen – just that I loved the food.

Still, I didn't run to Scampo. I waited a few months. But I was pretty excited by the time I finally got there. And I wasn't disappointed.

Like the hotel in which it resides, Scampo is visually striking, designed with a lot of guidance from its chef/owner, who is known for her eclectic tastes and collections of everything from antique stoves to dolls. The large room is done in warm woods, orange leather and lots of copper accents.
There is an open kitchen built around a brick pizza oven and tandoor, with bar seating along one side. The handmade breads – garlic cooked over coals; focaccia with rosemary, sea salt and warm robiola; ciccio, stuffed with ricotta salata, fontina and robiola; naan (the restaurant's own special version); roti; and something they call elephant ear walking, a sort of hard cracker shaped like an arch, covered with tomato sauce and melted scamorza and mozzarella cheeses – and pizzas come from this kitchen (as opposed to the other kitchen, responsible for the majority of the restaurant's selections). It is enormously tempting to spend all your time feasting on these comfort foods, as I did on my first visit, but you would be missing a lot.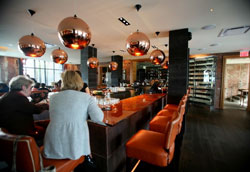 The beautiful thing about Scampo (which, incidentally, means 'escape' in Italian) is that the largely Italian menu, with Middle Eastern influences, was designed to be flexible. You can come in and sit at the bar or in one of the very comfortable seating areas; dine simply and inexpensively on pizza or handmade pasta, or have a fabulous wagyu sirloin, Kurobuta pork or lobster dinner.

I like to make a meal of a couple, or a few, small dishes, rather than the standard appetizer, entrée route, so the bread/pizza/pasta side of the menu, with a visit to the housemade mozzarella section, is perfect for me. (I didn't say I necessarily like to eat light.)

Of course, the only time I had dinner at Scampo I went against all my instincts and ordered the chop of kurobuta black pig w/green onion tart – because Shire had said it was one of her favorite menu items and because it was a lauded breed of pork I had never tried but thought I should. I'm not much of a carnivore, but I do like pork. When my plate arrived with its enormous hunk of meat, though, I was totally intimidated. The dish was perfectly cooked and deliciously seasoned, but it was just too much for me. I ended up taking most of it home for my son. (I ate all of the accompanying tart, however).

My companions that night – my husband and his very cool business associate from Germany – thoroughly enjoyed their pink swordfish with Spinosi Tagliolini and grated botarga, and tagliata of wagyu sirloin (Shire's favorite dish). We also polished off an elephant ear, ciccio and naan; and the men each had an appetizer. (I was too busy with the bread to even notice what they were eating.)

After my large portion of pig, I was much too full for dessert, but that has never stopped me, so my husband and I split a dense, dark chocolate tart. I'm sure I ate more than half. His associate, who said he's not much of a dessert eater, had sorbet, which I do not consider to be dessert.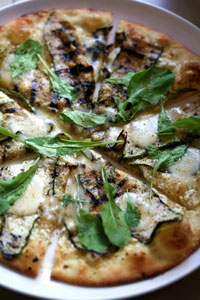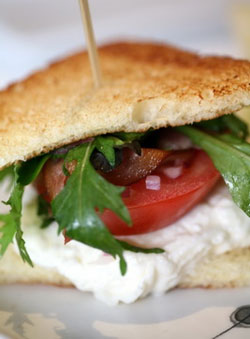 On my most recent visit to Scampo, a friend and I had a (relatively) light lunch. We shared a zucchini blossom & fennel pollen pizza and a burrata BLT with tomato soup. Not everybody likes fennel, but it is one of my favorite herbs, so I was thrilled when my friend suggested that pizza. The fennel pollen was dusted lightly all over the pie, giving it an addictively sweet/earthy flavor. It was rich, though, and I wanted to have room for the sandwich, so I limited myself to one piece, then nibbled more later.

The sandwich was my hands-down favorite. Burrata, in case you are not familiar with it, is fresh mozzarella filled with heavy cream and mozzarella curds. The Burrata BLT is served on white Pullman toast with bacon, tomato, the cheese and a lightly dressed mixed green salad. The combination is truly heaven. I ate a bit of soup because it was there, but really, I only had eyes for my sandwich. Next time I go to Scampo, and there will be a next time, I'm getting a whole BLT for myself.

Scampo
The Liberty Hotel
215 Charles Street
Boston, MA
(857) 241-1150


Andrea Pyenson is a freelance food writer and editor who lives in a Boston suburb with her husband and, more often than not, her two sons who are not quite out of the nest .

Interior and food photos taken by freelance photographer Amy Braga who lives in Bridgewater, Mass., with her over-photographed family.