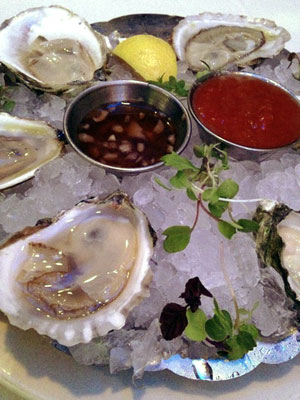 Come to Boston, eat fish. In Cambridge, Legal Sea Foods is in Kendall Square. In Boston, seek out the Legal that's in Copley Place (near Barneys) because you can nearly always get seated.
Don't confuse it with the other Legal in the Prudential Center which is at the top of the escalator on Boylston Street (and packed all night). Copley Place is connected to the Prudential Mall and since there are two malls, there are two Legals.
Friday nights the bar is crowded. If you get a seat at the bar from 3-6 pm weekdays only, oysters are a buck instead of $2.50. We had five local varieties including Wellfleets, Cotuits, and Wiannos from the Cape, and Naked Cowboys from Long Island, of course. Other bar plates: tempura vegetables, clams casino, buffalo shrimp, lamb skewers (all $5).
We're partial to the grilled bluefish and the rainbow trout ($19) which have gone up some since we started liking them. The sides: seaweed salad, jalapeño cheddar polenta and rice pilaf stand out from the field of regular fries, strings and slaw.
The trout is thin and we had it plain without extras (Cajun, red onion, Shandong, béarnaise); it is marvelous and so is the bluefish. The wine list is extensive.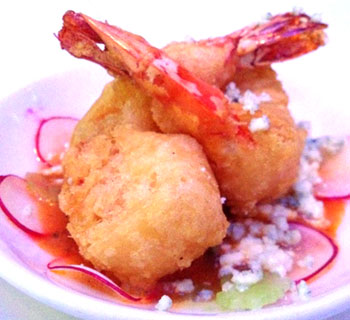 Legal has a gluten-free menu with a mere 13-line disclaimer which I didn't know about until I went online. (When you say you're allergic, it's a thing and the manager delivers your plate.)
Lunch starts at 11 with lobsters (now $28-$50), crab cakes, fried oysters, calamari four ways, a bunch of salads anything but ordinary, burgers tuna and Niman, crabmeat rolls, fish sandwiches (order with pickles and seaweed salad) and even grilled chicken.
It seems we never leave room for dessert but this time we did because they pair them with Ports. We vote for Key lime pie and bon bons. While three bon bons are enough for two, have your own piece of pie. Service is attentive and especially friendly at the bar.
At Kendall when you're lucky, there's street parking. At Copley, they validate parking so three hours ends up $9 instead of a million bucks. Here's hoping you can still squeeze into those fitting rooms at Barneys.
Legal has 18 locations in the Greater Boston area.
Legal at Kendall Square, Cambridge
5 Cambridge Center
617. 864. 3400
Legal at Copley Place, Boston
100 Huntington Avenue
617. 266. 7775
© November 6, 2012 One for the Table
Kitty Kaufman is a Boston writer at http://www.corp-edge.com. Cupcake Photo by Dilusha De Tissera - Twitter: @Dilusha9h