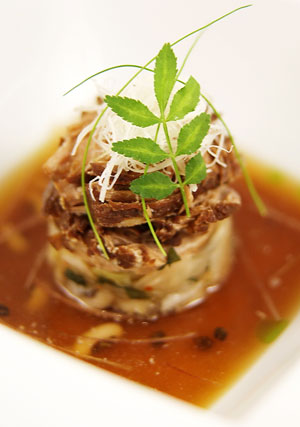 I get more excited about a meal at O Ya, Boston's spectacular little Japanese restaurant, than just about any restaurant I have ever visited – which is rare for me, because as much as I love food, I usually save most of my emotion, as well as the bulk of my appetite, for dessert. O Ya loosely translates to mean "gee whiz," a Japanese expression of curiosity. It is also the expression heard over and over on a given evening as diners search, but fail, to find just the right words to describe what is happening in their mouths when they taste chef-owner Tim Cushman's beautifully inventive flavor pairings.
O Ya opened about a year and a half ago with little fanfare and gradually became a sensation. In March, 2008 New York Times restaurant reviewer Frank Bruni named O Ya the best new restaurant in the country outside of New York. Since then, reservations have been booked about two months in advance. In its July issue, "Food & Wine" named chef-owner Tim Cushman a Best New Chef 2008. And the accolades continue to pile in. For the record, those of us who live here did not need the national media to tell us what a gem we had, hidden away on an unassuming side street between the city's financial district and its Chinatown.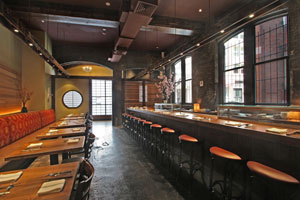 Housed in a 95-year-old former fire station, O Ya is designed to look like a Japanese tavern, with a cedar wall that runs the length of one side of the dining room, and Shoji screens that light up. The restaurant has only 37 seats – 17 of them at the L-shaped bar, where diners can watch three Japanese sushi chefs at work.
But the menu is as expansive as the room is intimate. There are roughly 70 items, weighted heavily toward nigiri and sashimi. Every day Cushman and his kitchen staff make approximately 80 fresh sauces, like the yuzu kosho aioli that gives the fried kumamoto oyster and squid ink bubbles its intense kick (yuzu kosho is made from the zest of the Japanese yuzu fruit, chili peppers and salt). Warm eel with Thai basil, kabayaki sauce and fresh Kyoto sansho is sweet and warm, the basil a perfect complement to the sauce. But the sansho, a peppery powder made from the berries of the Japanese prickly ash kind of sneaks in there and jolts your taste buds awake. One of my favorite items is the hamachi with spicy banana pepper mousse. The fatty fish is meltingly tender. The dish is a bit spicy, balanced by the earthy richness of truffle oil. All of the fish is such high quality, and so beautiful, each piece looks like a work of art on the plate. Many of the fish selections are lightly torched, and a few are fried, so anybody squeamish about eating raw fish will have plenty of options among the nigiri and sashimi.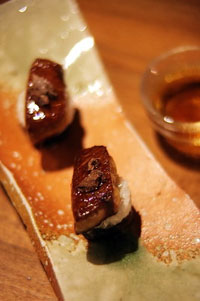 One of the restaurant's signature dishes is its foie gras with balsamic chocolate kabayaki and raisin cocoa pulp, which is served with aged sake. I have never been a fan of foie and not even the chocolate was enough to entice me to try it, but somebody in my party always orders it and somebody always swoons. It may seem silly to order a potato chip in a Japanese restaurant, but trust me – the homemade la ratte potato chip with Perigord black truffle is no ordinary potato chip.
The Okinawan style braised pork with Boston baked heirloom rice beans, homemade kimchee, soy maple sauce and kinome is so delicious you want to slurp up every last bit of sauce. And the tamago omelette "roll" with dashi sauce, Perigord black truffles (there they are again), robiola cheese and chives was possibly the best egg creation I have tasted.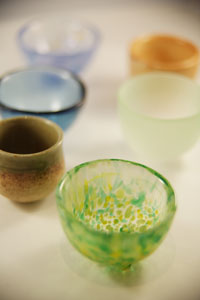 Cushman's wife and co-owner, Nancy, runs the front of the house and is also a sake sommelier. I don't know anything about sake but have always been happy with the choices she or my server has helped me make from the impressive list. And I derive a childlike joy on each visit at selecting my sake cup from one of the myriad handmade cups the Cushmans have collected from around the world. The restaurant also has very respectable white, red and sparkling wine lists, and a selection of 11 beers, five from Japan.
The staff is friendly and supremely helpful. The kitchen determines the order in which food is presented, so even though you know what you have ordered, you never know what is coming next. That makes the evening a series of delightful little surprises.
Dining at O Ya has its price. It is hard to have a meal for less than $100 per person, no small issue these days especially. But the food and the experience are worth every penny. Dinner at O Ya is more than gee whiz. It's a wow.
O Ya
9 East Street
Boston, MA
(617) 654-9900
Andrea Pyenson is a freelance food writer and editor who lives in a Boston suburb with her husband and, more often than not, her two sons who are not quite out of the nest .