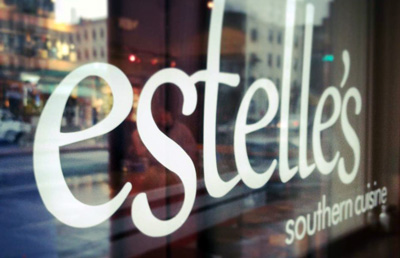 We're on for a Saturday night special at Estelle's on Tremont St at the corner of Mass Ave. It's been a year since they took over this corner: Brian Poe, of Poe's Kitchen at the Rattlesnake, Parish Cafe and Tip Tap Room, is working with executive chef Eric Gburski, who logged big time at East Coast Grill. The menu is Southern and in interviews earlier, Poe specifies his cuisine as Gulf Coast-style: barbeque, seafood and grill with hospitality to match. I feel a drawl coming on.
We're greeted by the friendly manager who seats us right away. It's all happening: we've got football, backless bar stools and plenty of bench seating that looks out on one of the busiest corners in Boston's South End. Kim orders Falcon Perch pinot noir, rich with vanilla and yeast. Where the bread could be is a bowl of relish with sweet pickles, carrots and onions that go with soaking up the grape. Here's another stemless wine glass; maybe you're heating it, maybe that's okay. Only the drinker knows and she's not saying. Soda and tea come in Ball Mason jars and water, people, I kinda wish water didn't show up in plastic.
What to order, what to order? Kim's got grilled flank steak with mashed sweet potatoes and garlic spinach. 782 steak sauce is Worcestershire with sweet tomato, chili peppers, ketchup, cider vinegar, raisins, garlic and onion. One of us likes it a lot. The meat's generous with heaping greens and Kim's impressed with the crispy, peppery outside and that it comes out "really medium, not rare and not well done." She is, as you guess, our meat and potatoes specialist. All of it is gone in no time. Buttery sweet potatoes always make us think of Thanksgiving.
The purist opts for Cajun cornmeal catfish with greens and plain rice obligingly subbed for red beans n' rice, thank you. It's fried, has to be, but there's no hint of oil and it's crispy and cooked to the minute. Besides, it wouldn't be Southern without a little catfish. The bright greens go down easy. Our smart server, Tyler, knows what we want before we do.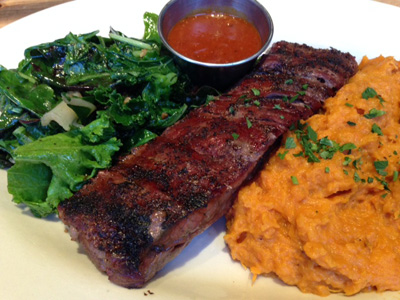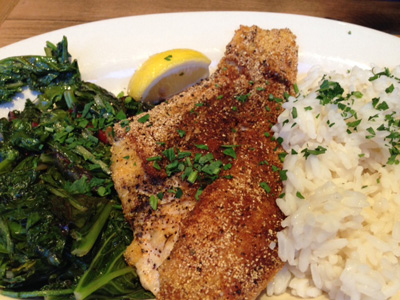 Estelle's got all your Southern picks and then some: hushpuppies, dumplings, deviled eggs, hot as hell wings; burgers (beef, turkey, vegan and catfish); Louisiana Po' boys cannily named for Brian; fried chicken, green tomatoes, sausage, meatloaf, brisket, pork chops, jumbalaya, okra, pecan pie, corn bread, fried shrimp and a "Bayou big ol' bowl o' seafood" with everything.
Yes, dessert. One of us says an ice cream cup and one says chocolate pie. Guess who wins? Tyler says the pie crust is vanilla wafers. I think they take everything and ganache it into a banana, chocolate and peanut butter mix. (Remember the Peanut Butter Song? "I like peanut butter, creamy peanut butter, chunky peanut butter, too.") Right, and there's whipped cream and mint. All of it's on my phone, my glasses, my pen and my shirt. Such a sacrifice this is. One of us, the Betty Crocker person, thinks a graham cracker crust would be more fun and the other says wafers win.
Brunch Sundays, lunch every day but Sunday, cocktails and dinner nightly. Beer lovers join the mug club: something about 130 beers in 180 days. I count 86 beers online and that includes a "South End Swill" category. See if yours is on the list - I'm not telling. Doesn't get much better than this.
Estelle's
782 Tremont St (South End)
Boston, MA 02118
857. 250. 2999
© Photos by Kim DeVito. Kitty Kaufman is a Boston writer. See more of their food adventures a Corporate Edge: Let's eat already