Serves 4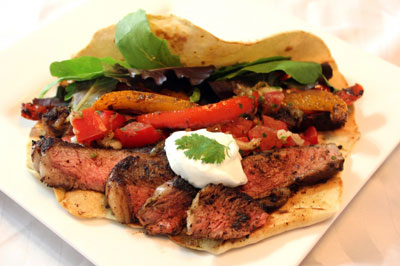 Spice Rub
1 teaspoon cumin
1 teaspoon Mexican oregano
1 teaspoon coriander
1 tablespoon chili powder (That's CHILI powder, not CHILE powder. Chili powder is a combination of spices used in making chili. Chile powder is straight ground chiles. Please be careful here. If you used a tablespoon of pure chile powder in your rub you would learn to hate me very quickly!)
1 tablespoon brown sugar
1 teaspoon salt
1/2 teaspoon white pepper
2 teaspoons oil
Mix together in bowl
Fajitas
2 boneless rib eye steaks, approximately 1 pound each
1 teaspoon oil
1 red pepper, sliced thinly
1 yellow pepper, sliced thinly
1/2 red onion, sliced thinly
salt and pepper, to taste
Instructions
Rub steaks vigorously with spice mix and let sit for at least an hour. Bring to room temperature before cooking.
Heat grill pan or large sauté pan for a few minutes, add oil and let it get hot without smoking. Put the steaks in the pan and grill for approximately 4 minutes each side for medium rare. Take steaks off grill and let sit before cutting. Do not take pan off heat.
Put the peppers, onions and salt and pepper to taste to the pan and sauté occasionally for 12-15 minutes, or until they are soft and caramelized.
Slice the steaks across the grain and serve on flour tortillas with sautéed vegetables and suggested accompaniments below (or whatever floats your fajita boat). And always, always be kind to your butcher.
Accompaniments
Pico de gallo or other salsa
Flour tortillas (or learn how to make your own My tortillas are like snowflakes http://awonderlandofwords.com/?p=601)
Monterey Jack cheese, grated
Sour cream
Guacamole
Fresh Corn
Tossed Salad
- Recipe courtesy of Alison Wonderland Tucker