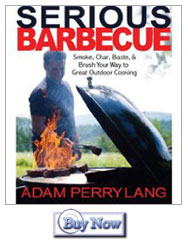 I have to confess – my relationship to the barbecue is voyeur at best. Occasionally, I'm assigned "Bri-ing me a-nother platter," which is ordered up as a faint cry from the deck where hopefully someone else is keeping "the barbecuer" company as I sort of regard "the grill" as a place of sparks and smoke and other unseemly stuff. Or else, I just like to be the star in the room and the star on the deck is the barbecue and "the barbecuer", a vocation I've never crossed gender lines for (although I've considered it.) I've considered that barbecuing could be up there with say, "Army Sharp Shooter." But since I have (earned) an "Army Sharp Shooter Certificate" from an intensely lonely three months at a summer camp I hated where I spent my time largely at the firing range...I've never quite felt the need to add Ace Barbecuer.

But I, also, have a serious addiction to cookbook reading, passed down from my mother. So when a copy of "Serious Barbecue: Smoke, Char, Baste, and Brush Your Way to Great Outdoor Cooking"
by Adam Perry Lang arrived in the mail with a quote from Mario Batali on the cover where he declares "Adam Perry Lang is my hero and my go-to brother for meat and fire." I couldn't resist reading it. And encouraging "the barbecuer" to do the same.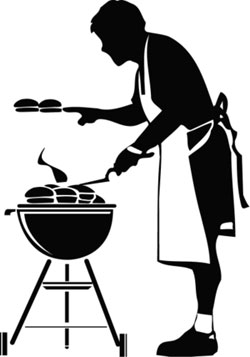 It's a serious barbecue book. And if you are a barbecuer as Alan is, it requires that you direct the butcher to do all sorts of specific things to the meat and in many cases marinate and do all sorts of things to the meat yourself before you even get down to the grilling part. But the Fajita-Style Marinated Flank Steak is truly insane, which we serve sort of Mexican style with flour tortillas and beans and guacamole just for sport. The Bacon-Wrapped-Boneless Skinless Turkey Breast is insane. (Warning: it involves like five steps – The Butcher; Brine; Marinade; Seasoning Blend; and Glaze) And you can almost trick yourself into believing you're eating something healthy. The Grilled Shrimp Cocktail is a gourmet delight and something even I think I could conquer in a pinch. And his coleslaw recipe, a combination of green and red cabbage, carraway seeds, cayenne pepper, Granny Smith apples, (and about a hundred other things), is truly divine.

There are some things, we wouldn't necessarily try at home like the Spit-Roasted Spring Lamb which lists in its additional items to purchase 60 lbs Brick Charcoal, Fire Starters, Rake, Large Ash Can, Fireproof Gloves, Fire Extinguisher – but I know some fairly ambitious home-chefs who might and the picture's kind of impressive, as are the other stunning photographs in the book.

And in the fall, when summer is waning and it's time to get truly serious about barbecue because time is running out, the barbecuer is planning on tackling the Grilled and Braised Osso Buco. But it definitely requires a dinner party, so, stay tuned.


Grilled Shrimp Cocktail from "Serious Barbecue"
Serves 8
After these plump up from a quick brine, and cook in their shells, they'll eat more like peel-and-eat lobster tails than plain old shrimp. Serve this alongside grilled steak, and it'll be not only a great respite from the meat's richness, but it'll give you a surf-and-turf experience, which for me was one of the most exciting things to get at a restaurant when I was little.
Brine
8 cups water
1⁄4 cup kosher salt
2 tablespoons granulated sugar
2 lemons
4 garlic cloves, peeled, and grated on a Microplane grater
3 cups ice
Twenty-four 8- to 12 count unpeeled shrimp (this means shrimp that come 8 to 12 to a pound)
1⁄3 cup canola or vegetable oil
1⁄2 cup extra virgin olive oil
Juice of 2 lemons
1⁄4 cup minced chives
Kosher salt
Freshly ground coarse black pepper
Cocktail Sauce
2 lemons, each cut into 4 wedges
1. Combine all of the brine ingredients in a large bowl and stir to dissolve the salt and sugar. Cut the lemons in half, squeeze the juice into the brine, and add the -whole lemons as well. Stir in the garlic, followed by the ice.
For each of the shrimp, using a paring knife, cut along the curve of the back of the shrimp, and remove the vein, keeping the shells intact. Clip the feet off with a small pair of scissors.
Place the shrimp in the brine and refrigerate for 1 hour.
2. Preheat all grates of a -well--oiled charcoal or gas grill to medium.
3. Remove the shrimp from the brine and lightly pat dry with paper towels.
In a bowl, toss the shrimp in the canola oil.
In a separate bowl, combine the olive oil, lemon juice, and chives. Set aside.
4. Place the shrimp on the grate, close the lid, and grill for 4 minutes. Flip to the second side and grill for 4 minutes.
5. Remove from the grill and immediately place in the bowl with the olive oil mixture, tossing to coat. Season with salt and pepper and serve with cocktail sauce and lemon wedges on the side.
"From Serious Barbecue by Adam Perry Lang. Copyright © 2009. Published by Hyperion. Available wherever books are sold. All Rights Reserved."