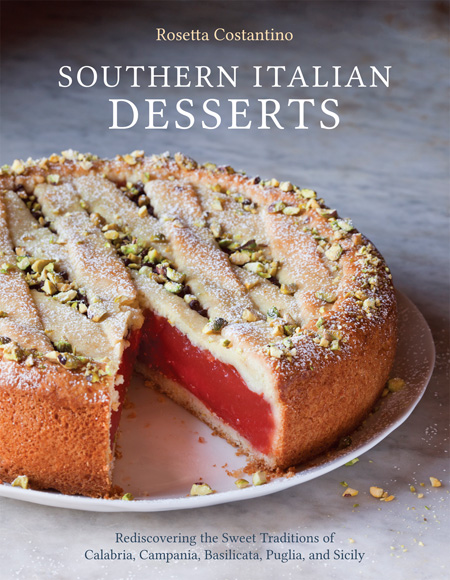 When I was a little girl growing up in Italian-centric Rhode Island, I relished my Sunday morning tradition with my Dad. He and I would drive to our favorite old-school bakery in Providence, LaSalle Bakery, and buy my family's favorite treats. Sticky pull-apart cinnamon raisin buns for my brother Chris, creamy éclairs for my brother Paul, cannoli for my Dad, and sfogliatelle for me. My mom mystifyingly always passed.
Of all the Italian pastries, the Campanian sfogliatelle, the clam-shaped flaky pastry with ricotta filling, has always been my favorite. I relished the crackle! emitted with every bite into the crisp shell and sighed with happiness when I reached the soft, creamy ricotta cheese center.
Years later as an adult I thought I'd learn to make sfogliatelle. That thought quickly passed when I realized how labor-intensive they were to make. Pastry dough must be run through a pasta machine twice to render it paper-thin. Then it must be carefully stretched, rolled, and molded by hand until a dizzying number of layers are formed. I didn't have the constitution for it. Fortunately for me (and you), Rosetta Costantino does.
A self-taught baker who was raised in Verbicaro, Calabria, Costantino now resides in Oakland, California where she and her mother teach Americans how to make many of Italy's most beloved desserts. In her latest book, Southern Italian Desserts: Rediscovering the Sweet Traditions of Calabria, Campania, Basilicata, Puglia, and Sicily
, she shares over 75 recipes for authentic regional Italian desserts that are virtually unknown in the United States making it a singular addition to anyone's cookbook collection.
Of course, Costantino has a recipe for Sfogliatelle Ricce (Flaky Pastries with a Semolina and Ricotta Filling). Since it's four pages long with two pages of step-by-step photos, I didn't include it here. After simply reading through the recipe you'll have a newfound respect for both the pastry and its creator.
The book is smartly divided by region, and each recipe is prefaced with a short history of the dessert, many of them associated with festivals and holidays. The recipes range from simple to challenging. But rest assured, each one has been tested for the home cook. You don't need a culinary degree to make any of these desserts, just desire and determination. Plus, you'll no doubt be inspired by Sara Remington's stunning color photography.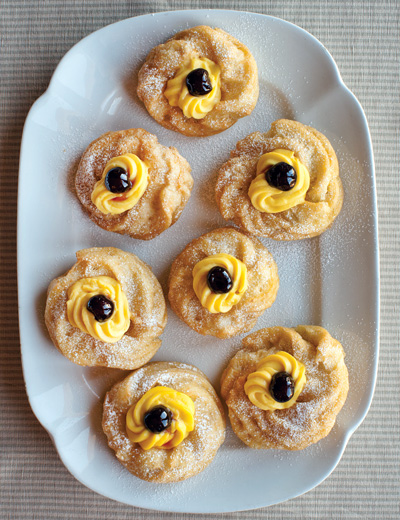 Before diving into a recipe, be sure to read it thoroughly as many require multiple steps. Not surprisingly, the ingredient lists tend to be lengthy, but most are easy to find. If you do get stuck, however, you can browse the list of recommended websites in the back of the book. Costantino's recipe instructions are marked by clarity and detail. It's as if she anticipates your questions and answers them within the instructions.
Although you'll find a few familiar treats such as gelato, biscotti, and cannoli, you'll more likely be amazed by the bounty of new and enticing recipes. For example, the Crostata al Gelo di Mellone (Watermelon Pudding Pie) that graces the book's cover, is a shimmering example of unique Sicilian desserts that are difficult to find outside of Italy. The sweet summertime pudding made from fresh watermelon is encased in a buttery short-crust pastry and dotted with chopped pistachios and confectioners' sugar.
Similarly, Costantino created her recipe for Pesche con Crema di Ricotta (Peach-Shaped Cakes filled with Ricotta Cream) from her desire to enjoy the pastry that can only be found in bakeries throughout Southern Italy. Now Americans can enjoy this superb confection at home. The peach-shaped pastries are so realistic that Costantino often fools her guests into thinking they're actual peaches!
The chapter on Campania is my personal favorite as it includes many of my cherished childhood favorites such as Biscotti all'Amerena (amarena cherry cookies) Zeppole di San Guiseppe (Saint Joseph's fried pastries), and La Pastiera Napoletana (Easter pie with wheat berries and ricotta).
Cookie lovers will devour the chapter on Puglia and Basilicata that features numerous chunky, nut-studded cookies such as Dolic di Noci (Walnut Cookies), Castagnelle (Crunchy Cinnamon Almond Cookies), and Intorchiate (Almond Cookie Twists).
If you're ready to take a confectionery journey through Southern Italy, then treat yourself to this delightful guide.
Zeppole di San Giuseppe
Saint Joseph's Fried Pastries
Makes about 18 zeppole
March 19 commemorates Saint Joseph's Day, honoring the father of Jesus and celebrated throughout Italy as Father's Day. Each region has its own dessert for the occasion, and in many parts of Southern Italy, these Neapolitan pastries topped with pastry cream and an amarena cherry are the treat of choice. The pastry is formed in a round doughnut shape, but the batter is similar to the French pâte à choux, used to make cream puffs and eclairs. The same batter is used in Palermo's Sfince di San Giuseppe (page 58), celebrating the same holiday. There, the dough is fried in round puffs and filled with ricotta cream.
To bake rather than fry the zeppole, pipe the dough in rings on a parchment paper–lined baking sheet and bake in a preheated 400°F (204°C) oven for about 25 minutes, until golden. Fill and serve as below.
BATTER:
1 cup (240 ml) water
1/2 cup (113 g) unsalted butter
Pinch of kosher salt
1 3/4 cups (230 g) all-purpose flour
7 large eggs
Vegetable oil, for frying
FILLING:
1 1/8 cups (320 g) pastry cream (page 185), made with 2 additional egg yolks (4 total)
18 preserved amarena cherries, for garnish
To make the batter, combine the water, butter, and salt in a saucepan and bring to a boil. Turn off the heat and add the flour all at once. Turn the heat to low and cook, stirring and pressing the dough with a wooden spoon, until all of the flour is absorbed and the dough pulls away from the sides and bottom of the pan. Continue to cook and stir for 1 minute longer to cook off the raw flour taste.
Transfer the dough to the bowl of a stand mixer fitted with the paddle attachment. At low speed, add the eggs, one at a time, mixing until each egg is well incorporated before adding the next. The batter will be thick.
Heat 3 inches of oil to 350°F (177°C) in a deep pot or fryer. Fit a pastry bag with a 7/16-inch star tip, such as Ateco #825. Line a baking sheet with paper towels.
Lay out sheets of parchment paper on a flat surface and, using a 3-inch round cutter or inverted glass as a guide, draw eighteen circles on the parchment paper with a pencil, leaving about 2 inches between them. Turn over the parchment paper so that the writing can be seen through it, and pipe rings of dough onto the parchment paper, using the circles as a guide. Cut between the rings with scissors to separate each zeppole onto its own piece of parchment paper.
To fry the zeppole, carefully slip a ring on its parchment paper into the hot oil, adjusting the heat to maintain it at 350°F (177°C). Use tongs to pull the parchment paper from the oil as it separates from the zeppole;set aside to cool and discard. Drop in a second ring and again retrieve the parchment paper. Use the tongs to continually turn the zeppole as they puff and brown, about 4 minutes. Allow the oil to drip back into the pot before transferring the zeppole to the paper towel–lined baking sheet as they are done. Continue to add the rings, pull off the parchment paper, turn, and brown the zeppole until you have fried them all. Cool just until they can be easily handled.
Use the pastry bag fitted with the star tip, or a spoon, to cover the small hole in the center of each zeppole with pastry cream. (The pastry ring will puff and nearly close as it fries.) Top each with an amarena cherry and serve warm.
Crema Pasticcera / pastry cream
Makes 11/8 to 21/4 cups | Gluten Free
When I make this rich cream using yolks from my backyard chickens, its deep yellow color transports me back to Calabria. If you have a friend who raises chickens, or know of a local farm where the chickens are pasture-raised, use their eggs for the richest color. However, this thick pastry cream is delicious no matter the eggs you use.
I grew up making this with whole milk, which is common throughout Italy. After trying it with various proportions of milk and cream, my favorite was with half-and-half, but you can make a good pastry cream with all whole milk, too. Cut the lemon peel in wide strips using a vegetable peeler, leaving behind the bitter white pith.
Use the table below to make the amount of pastry cream specified in the recipe.
| | | | |
| --- | --- | --- | --- |
| | Yield | | |
| Ingredient | 11/8 cups (320 g) | 13/4 cups (480 g) | 21/4 cups (640 g) |
| Half-and-half | 1 cup (240 ml) | 11/2 cups (360 ml) | 2 cups (480 ml) |
| Lemon peel | 1/2 small lemon | 1 small lemon | 1 medium lemon |
| Egg yolks (large) | 2 | 3 | 4 |
| Granulated sugar | 6 tablespoons (75 g) | 1/2 cup + 1 Tbsp (113 g) | 3/4 cup (150 g) |
| Cornstarch | 2 tablespoons (16 g) | 3 tablespoons (24 g) | 1/4 cup (32 g) |
Bring the half-and-half and lemon peel to a simmer in a small saucepan; do not let it come to a full boil.
Meanwhile, in a 2- to 3-quart heavy, nonreactive saucepan, whisk the egg yolks and sugar until they are completely smooth and slightly thickened. Whisk in the cornstarch until it is completely incorporated.
Reprinted with permission from Southern Italian Desserts
by Rosetta Costantino (Ten Speed Press, © 2013). Photo Credit: Sara Remington.