Takashi's Noodles
by Amy Sherman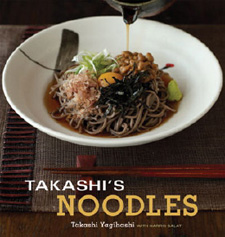 First up is Takashi's Noodles. They say if you get just one great recipe from a cookbook, it is worth the price. In that case, let me tell you about Spicy Eggplant Ja-Ja-Men Udon. Chef Yakashi Takashi, owner of Takashi's in Chicago describes this dish as a Japanese version of spaghetti and bolognese sauce. It's basically a spicy eggplant and ground pork sauce over noodles with peppers, spicy notes and a creamy sauce that is enriched with sesame paste.
The recipe has 18 ingredients but I skipped a few altogether and used substitutions for a couple more and can't imagine it made any discernible difference. I didn't bother with the 1/2 cup dashi, 1/3 cup canned bamboo shoots, teaspoon of cornstarch or 3 Tablespoons of sake. I used Chinese chili garlic paste instead of a Japanese variety and Chinese sesame paste instead of tahini. I had to buy exactly 2 ingredients to make the dish, green peppers and ground pork. I could eat this dish every week.!
Mid-West


by

Scott R. Kline





Hemmer Brothers Burgers in Sioux Falls, South Dakota is easy to drive by as it is placed inside an office building on bustling S. Phillips Avenue. But make sure you find it. They make a nice...

Read more...

Los Angeles


by

Maia Harari





My mom makes the greatest hamburger in the world. I don't know how she does it — it's not the cut of the meat or the way she marinades it (she doesn't) or the fact that it's organic (which it is)...

Read more...

Los Angeles


by

Maia Harari





"It's a really obscure number. you wouldn't have heard of it."

Since starting my dance company, my affiliation with hipsters has grown exponentially (and it wasn't exactly non-existent...

Read more...

New England


by

Michael Tucker





Why did I love our dinner at this place so much? Could it be that The Dream Away Lodge is rumored to have been a brothel during the Depression years, which speaks of a rich history of satisfying...

Read more...