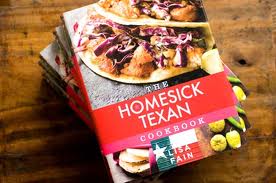 Please join us for a mucho dog-gone fantastico Tex-Mex BBQ Fiesta! Bill and I are having a party. So far, so good. But, how can I guarantee a dog-gone fantastico meal in Palm Beach when I need a genuine dog-gone Texan to prepare it. Count me out; I grew up in California where Mexican cuisine actually looks pretty and healthy. Not so, Texas. I need someone who understands brown – not green.
The Homesick Texan Cookbook
- by the real purdy Lisa Fain - to the rescue. Firstly, I appreciate anyone who "after a fruitless search for tastes of Texas in New York City, takes matters into her own hands." Secondly the dishes in her 'own hands' are wonderful!
Let's cut to the chase; if you want to cook The Homesick Texan way, you can probably avoid buying cactus but you cannot avoid finding a source for Ro-Tel, a "spiced up can of tomatoes and chiles that is a standard ingredient in any Texan's larder." With the above-mentioned Ro-Tel tomatoes you can produce the perfect Chile con Queso. 'Nuf said. That and a kitchen filled with iron skillets and a thorough knowledge of chiles, starts the delicious trek back to Texas and Tex-Mex heaven.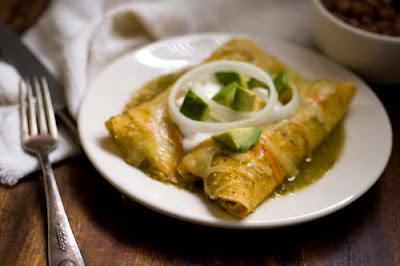 Anyone who has been on location filming knows the joys of Breakfast Tacos. My guess only a truck can produce a proper breakfast taco, but her recipe may be a sure-fire replacement for craft services. (page 70)
As only a truck can make a breakfast taco, only a super confident Texan can offer up Dr Pepper Ribs without gagging, but after one read of her recipe (and reading her recipes are a treat!) and it seems absolutely essential to order cases of Dr Pepper (the friendly pepper-upper) for the larder.
Or, what about Mexican bacon-wrapped hot dogs, or Sweetbread Tacos, or Pork Tacos Dallas Gas Station-Style, or West Texas Stacked Enchiladas, or Steak Fingers with Jalapeno Cream Gravy, or Beef Enchiladas with Chipotle-Pasilla Chili Gravy? How about that!
From the Homesick Texan: The Epitome of Tex-Mex!
CHEESE ENCHILADAS WITH CHILE CON CARNE
For the Chile con Carne:
6 dried ancho chiles, stems and seeds removed 1 tablespoon vegetable oil or lard
1/2 medium yellow onion chopped
2 cloves garlic chopped
1/2 tablespoon Ground cumin
1/2 teaspoon Dried oregano
1/4 teaspoon Ground allspice
1/4 teaspoon Ground cinnamon
1/4 lb. Ground beef
2 cups Beef broth
Salt, black pepper, and cayenne to taste
For the Enchiladas:
1 tablespoon Vegetable oil or lard
12 Corn tortillas
4 cups Grated cheddar cheese (16 ounces)
1/2 Medium yellow onion, diced
1. In a dry skillet heated on high, toast the ancho chile on each side for about 10 seconds or just until they start to puff. Fill the skillet with enough water to cover chiles. Leave the heat on until the water begins to boil and then turn off the heat and let the chiles soak until soft, about 30 minutes. Once hydrated, discard the soaking water and rinse the chiles. Place in a blender.
2. In a large pot or Dutch oven, heat the vegetable oil or lard and cook the onions, occasionally stirring until translucent, about 5 minutes. Add the garlic and cook for 30 more seconds. Placed cooked onions and garlic into the blender, along with the cumin, oregano, allspice, cinnamon, and cup of water. Blend until smooth.
3. In the same pot that you used to cook the onions and garlic, on medium heat brown the ground beef, stirring occasionally, about 10 minutes. (If you like you can drain the extra fat once the meat is browned.) Add the chile puree and the beef broth, heat on high until boiling, and then turn the heat down to low and simmer for 30 minutes, stirring occasionally. After 30 minutes, adjust seasoning and add salt, black pepper, and cayenne to taste.
4. To make the enchiladas, first preheat the oven to 350 degrees and grease a large baking dish. In a skillet, heat up the oil or lard on medium-low heat. One at a time, heat up the tortillas in the hot oil. Keep them wrapped in a cloth or tortilla warmer until all the tortillas are heated.
5. Take a heated tortilla and use tongs to dip it into the sauce. Shake off most of the sauce, but make sure that it's moist enough to be pliable. Lay the tortilla on a plate or clean cooking surface, add 1/4 cup of the grated cheese down the center of it, along with a few of the diced onions. Roll the tortilla. Place rolled enchilada in the greased baking dish and repeat with remaining tortillas. Pour sauce over enchiladas and top with remaining grated cheese and diced onions. Bake for 15 minutes or until cheese is lightly browned and bubbling.
6. Serve with Spanish rice and re-fried beans.
Since I do not like any praline recipe that calls for corn syrup, and since we have just loaded up our larder with Dr Pepper, here is a kid-friendly recipe for Dr Pepper Peanut Brittle.
Dr. Pepper Peanut Brittle (adapted from Cooking with Dr Pepper and 7Up)
Ingredients:
1 1/4 cups of sugar
3/4 cups of butter (1 1/2 sticks)
1 1/2 teaspoons of salt
1/2 teaspoon of cayenne
1/4 cup of Dr Pepper
2 cups roasted and salted peanuts, shelled
1/2 teaspoon of baking soda
Method:
1. Line a baking sheet with parchment paper.
2. Combine all the ingredients except for the baking soda in a pot, cook on medium heat and bring to a boil stirring often.
3. When the temperature reaches 290 degrees F, remove from heat and stir in soda. Mixture will foam up and double in size.
4. Spread mixture thin on baking sheet using a silicone spatula.
5. When mixture cools and hardens (about half an hour), break into pieces and serve. Makes 1 1/2 pounds or enough to feed you and a couple of other people.
No one said Tex-Mex is healthy… But, no one can deny its earthy dog-gone spicy comforting taste! Ole Y'all!
Nancy Ellison, award winning photojournalist and celebrity portraitist, has authored fourteen books of photographs, including "Romeo and Juliet: The Love Story in Dance" and "Starlet". Her latest book is "Wagner's Eternal Ring".