The pears looked perfect after poaching and tasted divine.
When I brought a bunch of Bosc pears home from the store the other day, I had no plans for poaching. I made a batch of Honey-Glazed Roasted Pears and served them for dessert with a generous dollop of coconut milk yogurt. I made enough so that some of the roasted pears could go into the refrigerator to be used another day in my breakfast bowl of hot oatmeal.
The rest of the Bosc pears got peeled and cored and cooked into soup. Bosc pears marry perfectly with Garnet sweet potatoes. Garnet sweet potatoes are moist with dark orange flesh. I didn't even peel the sweet potatoes before chopping them and cooking them in water with a cinnamon stick. While the sweet potatoes simmer to softness in cinnamon-spiked water, the pears simmer in white wine to reach tenderness. Then everything gets pureed together in a blender or food processor. I like to use my blender for this soup. It gives a velvety texture to the soup that the food processor doesn't offer.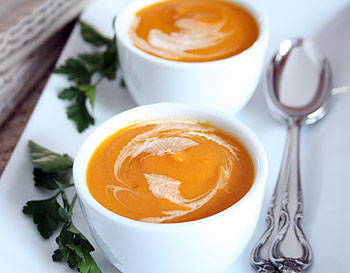 I made the soup dairy-free by replacing butter with the organic coconut spread I had in my refrigerator. Rather than using half-and-half to add a touch of richness to the soup, I used coconut milk creamer. These substitutions actually make the soup perfect for vegans.
I served the the thick, creamy soup with flaky turnovers filled with spinach, sundried tomatoes, onions and tofu. The turnover recipe came from "Moosewood Restaurant New Classics." I've got four of the Moosewood cookbooks and use them often. I've never been disappointed with any of the recipes I've tried from the books.
It's also a nice soup to start your special Valentine's meal. Velvety, rich, creamy, not sweet with a hint of cinnamon hiding in the background while the pears and sweet potatoes marry and become one. Perfect!
Enjoy!
Sweet Potato and Pear Soup
1 1/2 pounds sweet potatoes, cut into small pieces
4 cups water
1 (3-inch) cinnamon stick
1 1/4 teaspoon salt
1 tablespoon butter or organic coconut spread
3 Bosc pears, peeled, cored and chopped into small pieces
1/3 cup white wine or apple or pear juice
1/3 cup half-and-half or coconut milk creamer
1/4 teaspoon ground white pepper
Combine sweet potatoes, water, cinnamon stick and salt in a Dutch oven. Bring to a boil. Reduce heat, cover and simmer 15 minutes or until sweet potatoes are tender. Remove cover and simmer an additional 5 minutes. Discard cinnamon stick and set sweet potato mixture aside.
Melt butter or organic coconut spread in a large skillet over medium heat. Add pear pieces and saute 5 minutes. Add wine. Reduce heat, cover and simmer for 10 minutes or until pear pieces are tender.
In food processor or blender, puree sweet potato mixture and pear mixture in batches. Return pureed soup to Dutch oven. Add half-and-half or coconut milk creamer and pepper. Stir well to combine. Heat through and serve. Makes about 8 cups.
Recipe adapted from Perennial Palette, by Southborough Gardeners in Southborough, Massachusetts. 2001.
Sue Doeden is a popular cooking instructor, food writer and integrative nutrition health coach. She is the host of Good Food, Good Life 365 on Lakeland Public Television. Her own hives full of hardworking bees and her love of honey led to the creation of her recently published cookbook, Homemade with Honey.