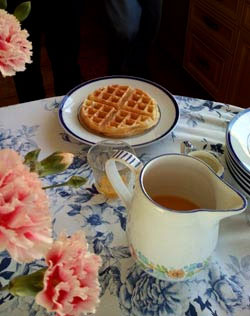 The secret to a great waffle (or pancake for that matter) is separating the eggs! And beating the egg whites until they're stiff and gently fold them into the other ingredients after they've been mixed!
That's the secret. The other secret to great waffles is real maple syrup, the lighter the grade the better. But since waffles are basically the most delicious thing in the world, experiment with fresh blueberries, apricot jam, or anything else that suits your fancy if you're not in the mood for syrup.
Heating the syrup is also a plus. And serve with melted butter in an adorable little pitcher.
2 large eggs, separated
1 1/2 cups buttermilk*
2 tablespoons unsalted butter, melted
1 cup All-Purpose White Flour
1 tablespoon yellow cornmeal (used frequently in the South and possibly unnecessary)
1 teaspoon baking powder
1/2 teaspoon baking soda
1/2 teaspoon sugar (or if you're feeling brave a whole teaspoon)
1/2 teaspoon salt
In a large bowl, beat together the egg yolks, buttermilk and butter till well combined. In a separate bowl, sift together dry ingredients. Gently stir dry ingredients into wet ingredients.
Beat egg whites till stiff. Gently fold them into batter.
Bake in a preheated, oiled waffle iron till done.
(Should make about 10 to 12 waffles depending on the size of your waffle pan.)
- AE