A light dessert turned rich, decadent breakfast, this recipe is sure to delight and impress your chocoholic sweetheart.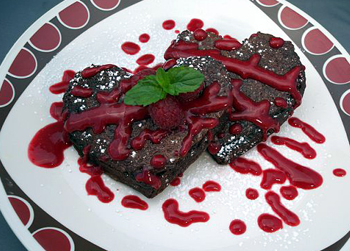 Ingredients:
2 cups All-purpose Flour
3 tablespoons Sugar
1 teaspoon Salt
1 teaspoon Baking Powder
1/2 teaspoon Baking Soda
1/2 cup Cocoa Powder
1 teaspoon Orange zest or dried orange peel
1/2 cup Semi-sweet Chocolate Chips
4 tablespoons Unsalted Butter, melted
2 Large Eggs, separated (separating is optional, but will give a lighter texture and keep the pancakes from being too rich—real chocoholics won't mind the richness)
1½ cups Buttermilk
1/2 cup Brewed Espresso or Strong coffee
1 tablespoon Coffee Liqueur (optional)
1 teaspoon Vanilla Extract
2½ cups Raspberries (fresh or frozen)
1/4 cup Sugar
1 teaspoon lemon juice

Directions:
Sift together 1st 6 ingredients Stir in orange zest and chocolate chips
In a separate bowl combine butter, egg (yolks), buttermilk, espresso, vanilla, & liqueur and whisk well. Pour wet ingredients into dry and whisk just until combined. Do not over-mix!
In a clean bowl, whip egg whites until fluffy. Gently fold egg whites into batter, being careful not to deflate whites. Don't fully incorporate whites into batter; some streaks are OK.
In a blender, combine raspberries, sugar, and lemon juice. Blend until smooth. Pour coulis through a fine strainer, pushing against the sides with a rubber spatula until all of the liquid runs through
Heat a cast-iron skillet or griddle to medium. Brush a thin layer of butter on griddle. Using an ice cream scoop, portion out each pancake and release onto griddle. When edges begin to set, gently flip each pancake and cook for another minute or so, or until set around edges.
Serve with whipped cream (or vanilla ice cream!), raspberry coulis, & fresh raspberries.

Recipe Summary:
Yield: 12 pancakes
Prep Time: 10-15 minutes
Cook Time: 5 minutes
- Recipe and photo courtesy of The Strawberry Creek Inn