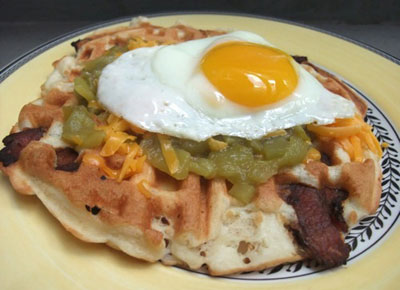 Makes one serving (multiply to serve as many as you like)
Ingredients:
Waffle batter, homemade or from a mix
2 strips bacon, cooked and cut into 4 pieces
2 Tablespoons cheddar, shredded
2 Tablespoons fire roasted green chiles (such as Ortega brand)
Optional:
1 teaspoon butter or oil
1 egg
Instructions:
Heat waffle iron and grease as directed. Pour in the batter and lay a piece of bacon in each quadrant. Close cover and cook until done. Meanwhile heat a small nonstick pan. Add the butter or oil and fry the egg. Meanwhile place the chiles in a microwave safe container and gently heat in the microwave until warm, about 1 minute. Place the waffle on a plate, top with the chiles, cheese and egg, if desired.
- Recipe courtesy of Amy Sherman