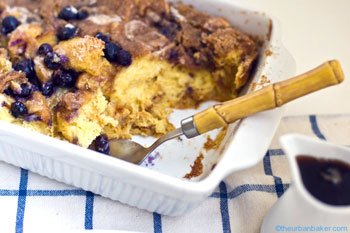 Adapted from The Pioneer Woman
Yield: serves 6 (I cut her original recipe in half)
Ingredients:

for the french toast
1/2 loaf of fresh challah or french bread
4 large organic, eggs
1 cup whole, organic milk
1/4 cup organic, heavy whipping cream
1/4 cup plus 2 Tbsp. sucanat (or whole cane sugar)
1 Tbsp. pure vanilla extract
1/2 cup organic, frozen blueberries – not thawed
for the topping:
1/4 organice whole-wheat pastry flour
1/4 cup sucanat (or other whole cane sugar)
1/2 tsp. ground cinnamon
1/8 tsp. sea salt
2 oz. organic, unsalted butter
1/2 cup frozen, organic blueberries
Instructions:
• for the french toast
• Grease a small baking pan (I used a 7 x 10″), with a little butter.
• Cut bread into cubes and put in the prepared pan.
• In a large bowl, combine the eggs, milk, cream, sucanat, and vanilla. Whisk until incorporated.
• Pour the egg mixture over the bread crumbs. with the palm of your hand, press the bread into the egg mixture. Cover with plastic wrap and put in the fridge for an hour or overnight.
• make the topping
• In a bowl, combine all the dry ingredients.
• Cut the butter in small cubes and mix into the dry ingredients with your fingers. Cover and store in the fridge until ready to use.
to assemble and bake
• Preheat oven to 350°F. Place casserole dish on a rimmed baking sheet. Uncover plastic wrap and sprinkle blueberries evenly. Scatter the streusel topping over the french toast mixture. Bake for 40-50 minutes or until top is golden brown and the interior isn't runny.
- Recipe courtesy of Susan Salzman