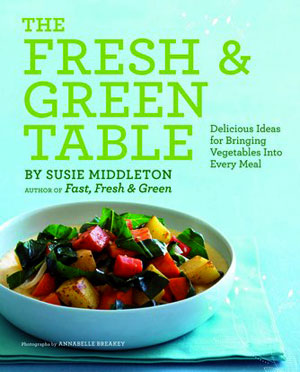 We've all met them — people who sincerely love vegetables but are so depressingly earnest about it, that a conversation with them leaves you craving a cheeseburger and fries. Susie Middleton isn't one of them. In her latest book, The Fresh & Green Table: Delicious Ideas for Bringing Vegetables into Every Meal
, Middleton moves vegetables to the center of the table and serves them up generously seasoned with joy.
In her introduction, she acknowledges "how hard it is to navigate nutritional advice these days" which is why she approaches cooking vegetables from a cook's point-of-view, not a nutritionist's. That's what makes her cookbook a pleasure to use. After reading a few recipes, you can't wait to rush to the farmers market to buy bag-loads of veggies and start cooking.
Upon first glance, the recipes look lengthy — perhaps too lengthy to tackle — but persevere. What you'll find upon closer inspection are clearly written, detailed recipes laced with established cooking techniques and helpful tips. Indeed, after making a couple of her recipes, you'll feel like Middleton is in the kitchen with you, offering equal measures of advice and cheer.
It's not surprising that the book begins with main-dish salads and hearty soups. What is surprising is their individuality. Consider Middleton's favorite recipe in the book: Grilled Zucchini, Bell Pepper, Goat Cheese & Grilled Bread Salad with Double-Tomato Dressing. Who would expect double-tomato dressing to be made with orange juice, fresh mint and basil, and black-olive tapenade?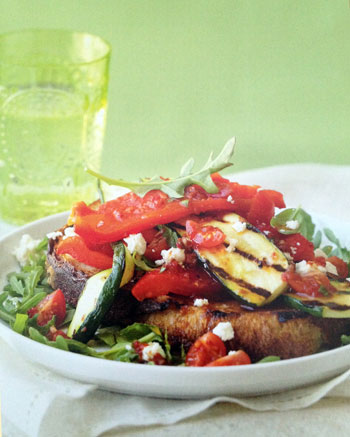 Other chapters include Savory Rustic Tarts, Grains (+Veggies) for One-Dish Dinners, and Pizza for Dinner. Middleton appreciates the beauty of savory rustic tarts — they're comfortable as a main course for Sunday brunch or as an appetizer for a dinner party.
The Roasted Butternut Squash, Cranberry, Shallot & Pecan Tart is ideal for cold winter nights. Tucked inside of a rich, cheese-spiked, buttery crust, you'll find a soul-warming medley of roasted squash, earthy shallots, and tart cranberries gently seasoned with lemon zest and fresh sage.
Virtuous brown rice seems suddenly sassy when tossed with stir-fried carrots, ginger, mint, and toasted almonds. Farro, the ancient Tuscan grain that mystifies many home cooks, is infinitely more approachable when mixed with seedless red grapes, balsamic vinegar, and fresh rosemary and spooned into roasted portabello mushroom caps.
Both the baked and grilled pizzas beckon to be made. A sauce-less white pizza topped with sautéed onions, Baby Bella mushrooms, fresh rosemary and both Fontina and Parmigiano-Reggiano cheese is simple enough for a weeknight dinner yet sophisticated enough for company.
The book's design is clean and simple, though this reviewer would have liked a larger font. Annabelle Breakey's photographs are beautiful; I only wish there were more of them.
If you're looking to incorporate more fresh vegetables into your diet, then invite Susie Middleton and The Fresh & Green Table into your kitchen and wait to be inspired.
Susan Russo is a free lance food writer in San Diego, California. She publishes stories, recipes, and photos on her cooking blog, <Food Blogga and is a regular contributor to NPR's <Kitchen Window. She is also the author of Recipes Every Man Should Know
and The Encyclopedia of Sandwiches
.