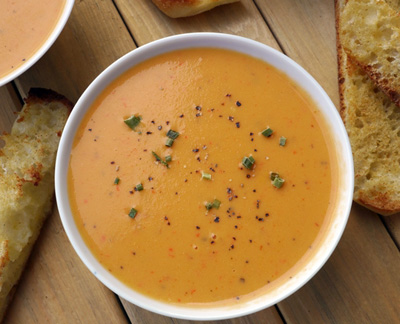 Recipe Created by Cathy Pollak for NoblePig.com | Serves: 4
Ingredients:
2 Tablespoons butter
1/2 one large onion, chopped
5 stalks celery
2 large red bell peppers, cored, seeded and chopped
1 teaspoon minced garlic
1 can (14.5 ounce) chicken broth
1 can (14 ounce) lite or regular unsweetened coconut milk
1/4 cup Thai style sweet chili sauce
1-1/4 teaspoon table salt
3/4 teaspoon coarsely ground black pepper
1/4 cup heavy cream
Directions:
Melt butter in a large Dutch oven (7-quart) over medium heat. Saute onion, celery and red peppers until softened; about 5 minutes. Add garlic and saute for 30 seconds more.
Add chicken broth, coconut milk, sweet chili sauce, salt and pepper. Bring to a boil and simmer on low for 10 minutes.
Puree in a blender (two batches) until smooth. Pour soup back into Dutch oven and add cream, stirring until incorporated. Taste and season to your liking.
Serve with crunchy garlic bread sticks for dipping.
- Recipe courtesy of noblepig.com.