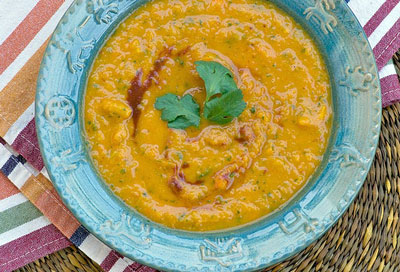 Serves 6-8

Chipotle chilis in adobo sauce can be found in the Mexican food section of most major supermarkets or at specialty Mexican markets.

1 (1 1/2-2 pound) butternut squash (about 4 cups cooked)
2 tablespoons olive oil, divided, plus a little for brushing the squash
1 yellow onion, diced (about 1 cup)
3 celery stalks, chopped (about 1 cup)
2 carrots, peeled and chopped (about 1 cup)
4 cups low-sodium vegetable broth
2 tablespoons chopped chipotle chilis in adobo sauce, (about 2 chilis tablespoon)
1/2 teaspoon ground cumin
3/4 cup chopped fresh cilantro

1. Position a rack in the center of the oven, and preheat to 400 degrees F. Slice butternut squash in half. Scoop out the seeds and discard. Brush the flesh with a little bit of olive oil. Roast flesh side down on an aluminum foil-lined baking sheet for 40-45 minutes or until tender when pierced with a fork. Let cool slightly before scooping out flesh. Discard skin.

2. In a deep pot over medium-high heat, warm oil. Saute onions, celery and carrots for 5 to 7 minutes, or until softened and lightly browned. Add the cooked squash and broth. Bring to a boil, then reduce to low, and cook for 5 to 7 minutes. Add chilis, cumin, and cilantro. Turn off heat, and let cool 10 minutes before pureeing. Taste it. If you'd like it spicier, then add more chilis.

3. Working in batches, puree the soup in a blender until smooth, and return to the pot over low heat. Stir occasionally until the soup is thoroughly heated, about 10 minutes. If you prefer it thinner, then add a bit more broth or warm water, and stir well. Season with salt and pepper as desired. Garnish individual servings with fresh cilantro, if desired.
 - Recipe courtesy of <Food Blogga