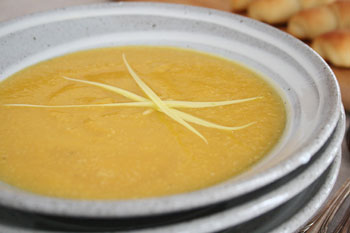 2 medium-sized leeks
1 medium onion, chopped
1/2 cup chopped celery
3 tablespoons butter
1 pound butternut or your favorite winter squash, peeled, seeds removed, and chopped
1 small turnip, peeled and chopped
2 large Granny Smith apples, peeled, cored and chopped
1/2 cup chopped carrot
4 cups low-sodium chicken broth
1 cup apple cider or organic apple juice
1/2 teaspoon salt
1/4 teaspoon ground nutmeg
1/4 teaspoon dried whole rosemary, crushed
1/4 teaspoon dried whole sage, crushed
1/4 teaspoon ground black pepper
1/2 cup (2 ounces) shredded Gruyere cheese
1/2 cup heavy whipping cream
Croutons, optional
Remove root, tough outer leaves, and tops from leeks, leaving 2 inches of dark leaves. Wash leeks, and chop.
Saute leeks, onion, and celery in 3 tablespoons butter in a large Dutch oven until vegetables are tender. Add squash, apples, turnip, carrots, and chicken broth, stirring to combine. Bring mixture to a boil. Cover, reduce heat, and simmer 45 minutes or until vegetables are tender.
Puree soup mixture in blender to make it smooth. It will take a few batches in the blender. Add apple cider, salt, pepper, nutmeg, rosemary and sage to one of the batches of soup in the blender to puree. Put pureed soup back into pot. Stir well. Simmer soup, uncovered, 10 minutes or until thoroughly heated. Add shredded cheese and whipping cream, stirring until cheese melts. Ladle soup into individual serving bowls. Garnish with croutons, if desired. Yield: 12 cups.
Tip from the cook
If you think of it when you are cleaning the leeks, save some of the thin, slender pieces from the middle of the leek to use as garnish on the soup.
- Recipe courtesy of Sue Doeden