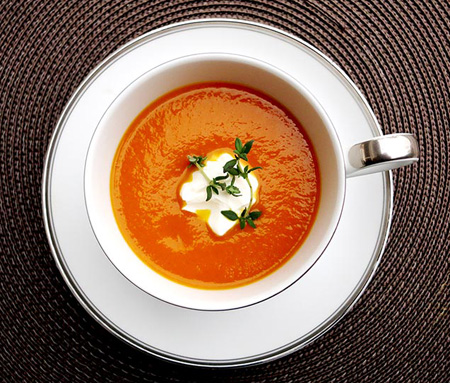 2 tablespoons coconut oil, olive oil or unsalted butter
2 onions, chopped fine
1/4 cup minced crystallized ginger
4 teaspoons grated fresh ginger
2 garlic cloves, peeled and smashed
Sea Salt and pepper to taste
2 pounds carrots, peeled and sliced 1/4 inch thick
1 apple, peeled, cored, and chopped
4 cups water
1 1/2 cups carrot juice, preferably freshly made (added in 2 parts)
1/2 cup fresh orange juice
2-3 sprigs fresh thyme
1/2 teaspoon baking soda
1 tablespoon apple cider vinegar
Sour cream or crème fraiche
Chives or Fresh Thyme leaves for garnish
1. Heat oil or butter in large saucepan over medium heat. Add onions, crystallized ginger, fresh ginger, garlic, 2 teaspoons sea salt, and sugar; cook, stirring frequently, until onions are softened but not browned, 5 to 7 minutes.
2. Increase heat to high; add carrots, chopped apple, water, 3/4 cup carrot juice, orange juice, thyme sprigs, and baking soda and bring to simmer. Reduce heat to medium-low and simmer, covered, until carrots are soft and tender, 20 to 25 minutes.
3. Discard thyme sprigs. Working in small batches, process the soup in a blender until smooth, 1 to 2 minutes. Return soup to a clean pot and stir in vinegar and remaining 3/4 cup carrot juice. (the soup can be stored in the refrigerator for up to 4 days.) Return to simmer over medium heat and season with salt and pepper to taste. Serve with sprinkle of chives and dollop of sour cream or crème fraiche.
- Recipe courtesy of Cook Like James