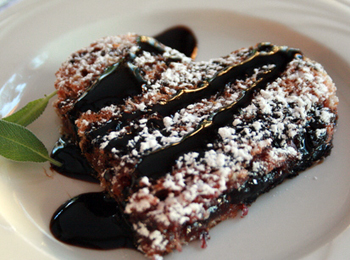 My collection of heart-shaped cookie cutters is spread throughout my kitchen. From very tiny one-bite size to large ruffled nibble-with-a-cup-of-coffee sized cutter, they're at the ready to cut whatever suits my fancy into a shape that says "Love You."
Brownies, chewy peanut butter oatmeal bars, lemon bars, pancakes — all can be stamped with a cookie cutter.
My phone visit with Sarah Piepenburg last week was the inspiration for the Nutella and Jelly "Love You" Sandwich. Sarah and her husband, Richard, own Vinaigrette, a Minneapolis store specializing in imported olive oil and vinegar. She told me she has drizzled the 18 year aged balsamic they carry in the store over grilled peanut butter and jelly sandwiches. If it's a good dessert made with peanut butter, why not Nutella?
It's amazing how decadent a simple grilled sandwich becomes when it's made with an ample slather of Nutella and your favorite premium jam or preserves. A dusting of powdered sugar and a drizzle of aged balsamic, as thick as syrup with a bright, fruity flavor, puts this delightful bread and spread concoction way over the top.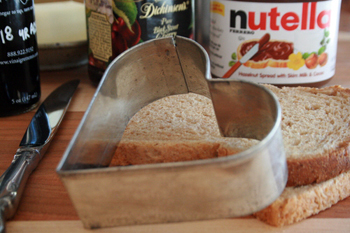 Lucky for me, my local food co-op gets a weekly delivery of whole grain breads from Postively 3rd Street Bakery in Duluth. I used their Oatmeal Sesame bread for these sandwiches. Use your favorite whole grain bread.
To create a panini-like sandwich without a panini-press, I put a heavy pot on top of the sandwich as it cooks in a hot skillet. It doesn't get those fancy grill marks, but it does get thin and gooey. Each bite melts in the mouth.
Nutella and Jelly "Love You' Sandwich is a great way to let the special people in your life know how much you care about them — anyday.
Nutella & Jelly "Love You" Sandwich
For each sandwich:
2 slices whole grain bread
Nutella
Premium Fruit Jam or Preserves
Butter
Powdered sugar
Fruit syrup or Balsamic Syrup
Lay bread slices on work surface. Spread one slice with a generous layer of Nutella. Spread jam on the other slice. Bring slices together to form a sandwich.
Spread soft butter on top of sandwich. Place, butter side down, in a non-stick skillet. Cook over medium heat until bread is golden. Spread butter on top side of sandwich. Flip over and brown. Place a heavy pot or pan on top of the sandwich to weigh it down, creating a panini-like sandwich. Transfer grilled sandwich to work surface. Use a heart-shaped cookie cutter to cut a heart shape from the sandwich. Remaining parts of sandwich become the cook's treat.
Place on plate. Sprinkle with powdered sugar. Drizzle with syrup. Serve warm.
Sue Doeden is a popular cooking instructor, food writer and integrative nutrition health coach. She is the host of Good Food, Good Life 365 on Lakeland Public Television. Her own hives full of hardworking bees and her love of honey led to the creation of her recently published cookbook, Homemade with Honey.