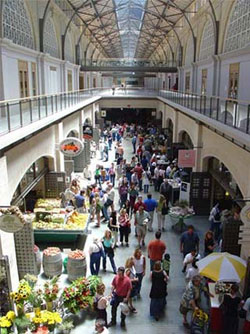 Our editor, Amy asked that I think of something about candy for this Valentine's Day issue, so I racked my brain trying to come up with something to say about candy that I haven't already said. It would be one thing if I found a new candy, but I haven't. Also, since my last story about the sweet, romantic thing my husband did when he presented me with a gorgeous piece of jewelry for my birthday, his romantic gestures have taken the form of making sure I didn't come home to a messy house when I've been out of town. I gotta tell ya, that stuff goes a long way with me.
It did occur to me though, that my recent trip to San Francisco for Sketchfest would qualify for the spirit of Valentine's Day. I fell in love with the city….again. Eugene Pack, the creator of Celebrity Biography: In Their Own Words and Dayle Rayfel invited me to join them in the show and they were my food adventure buddies. Dayle is a vegan and Eugene slowly revealed himself to be the kind of exercise fanatic that tells you a location is a" nice walk" when its 27 blocks away.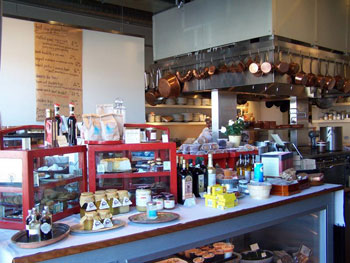 Dayle and I met Eugene at the Ferry Building Market Place. We traipsed up and down the corridors of this magnificent building, investigating all the food stands and restaurant menus. Dayle had a hankering for pancakes, but it was already noon and oddly, nobody was serving them. Place after place, as splendid as they were, just didn't fit the bill. My philosophy is, if you're in a different city, you shouldn't ever have a bad meal. You're obligated to sample the very best that city has to offer. Dayle concurred. Well, we found a restaurant that I went back to the next day: Boulettes Larder.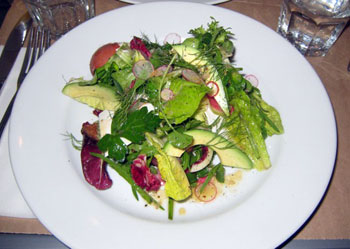 Dayle didn't see anything on the menu she liked and felt she was compromising by ordering bread with butter and jam. She changed her mind when she saw the basket of walnut and brioche toast, and homemade apricot preserves. I ordered a salad that was so beautiful in its presentation, I had to take a picture. It tasted fantastic.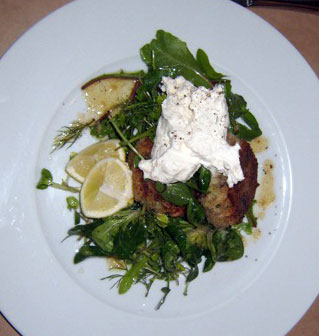 I also had to order the fishcakes (cod and shrimp). They were topped with a mache tossed in a shallot lemon vinaigrette, that I'm still trying to figure out how to make. There was also a large dollop of horseradish mousse. Eugene had scrambled eggs with cauliflower, curry and papadam. I didn't try it because I hate cumin, but he revealed a whole new side of himself that I never knew about: he was a foodie. I've known the guy for at least 6 years !

The following day, all of us were set to depart at noon, so I made it back to Boulettes Larder for breakfast and again, I had to order two things because they sounded so good. I had the winter fruit compote with ricotta. It was oranges infused with pomegranate syrup and grapefruit. It would never have occurred to me to combine cheese with citrus, but it was amazing! Then I had poached eggs with rutabaga gratin. This was also topped with the shallot lemon tossed mache. Their amazing bread came too.
So, as the song goes, I left my heart, in San Francisco. Sketchfest was fun too. The usual suspects, Fred Willard, Rachel Dratch, Maria Bamford, along with Jason Segal , Laura Kightlinger and Steve Schirripia. How lucky am I?
Boulette's Larder
1 Ferry Building # 48
San Francisco, CA 94111-4231
(415) 399-1155
Laraine Newman is a founding member of The Groundlings Theatre Company and an original cast member of Saturday Night Live. She lives in her hometown of Los Angeles with her husband and two daughters.