For Valentine's Day dessert, try Pomme d'Amour
by Thomas Keller
From the LA Times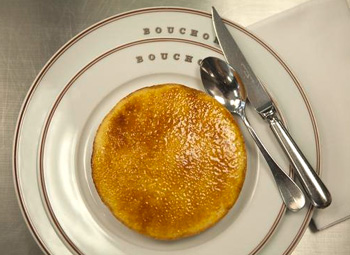 So often when people plan Valentine's Day dinners, they want to finish with a big, elaborate dessert. I prefer to go in a different direction. To me, nothing expresses love better than a simple dish that is taken to a new level because you've taken extra care in its making.
A perfect example is the very simple custard tart called Pomme d'Amour that is made by Knead Patisserie in San Francisco. Technically, I suppose this should be called a croustade d'oeuf, since it's nothing more than a custard baked in a crust, but I like Knead's version enough to call it by its name.
There are only two elements — the crust and the pastry cream filling — but by making each as good as it can be, you wind up with a dish that, like all perfect pairings, is greater than the sum of its parts.
There are no special tools involved and it doesn't call for any exotic ingredients. Instead, what makes this dessert special is taking the appropriate care with each step.
Paris


by

Brenda Athanus





When was the last time you ate something that made time stop and took you back to your childhood? Berthillon in Paris is a dreamy ice cream shop on the Isle St. Louis that will do just...

Read more...

Los Angeles


by

Maia Harari





I love breakfast. Pancakes that taste like cookie dough at Hedley's, Huevos O'Groats, I'll even drive to Ventura for the chorizo skillet at Golden Egg or go to Barney Greengrass in New York for...

Read more...

New York


by

Ilene Amy Berg





I recently saw a new show on the Food Network called "Food Feuds". I like it – I get it. It's a simple premise: in towns all across the country there are passionate disagreements about "the best"...

Read more...

Colorado


by

Haley Schultheis





If there is one type of restaurant certain to make a list of things I adore, it's a cozy bakery and café. There is a peaceful and neighborly feel about such a place. Yes, Tiffany's is to Holly...

Read more...