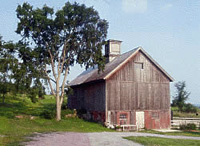 Around fifteen years ago, my wife and I decided that eventually we wanted to leave Los Angeles and move to the country. Although neither of us had ever lived on a farm, we both had grandparents who did and had fond memories of visits where we "helped" with chores such as milking and gathering eggs. However, I soon learned to avert my eyes whenever I saw my grandmother pick up a chicken, as I knew this was Step 1 of the recipe for the pot pie which would appear on the supper table.
Once we had decided to move, we spent our vacations looking for the perfect place. We checked out Northern California, Oregon, Washington and the Canadian Maritimes before eventually deciding on Vermont because it actually looked like "the country" of our imaginations.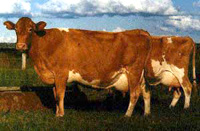 Having decided where we would go, the next challenge was deciding what to do when we got there. Part of our reverie of our grandparents' farms was the recollection of the breeds of animals they raised, such as Guernsey cows, which have fallen out of favor with the advent of "industrial" farming. Around this time we also discovered the American Livestock Breeds Conservancy, (ALBC-USA.org), which is dedicated to preserving biodiversity by generating interest in the very type of animals we wanted. We joined and we went to one of their conventions where we heard a speaker declare that Vermont was becoming the "Napa Valley" of cheese. Suddenly it all became clear. When we got to the country, we would use these older, rare breeds of cows to make cheese. Everyone would see there was still a need for the old breeds, we would win awards and possibly even make some money.
About this same time, I had a conversation with a friend of mine who told me about his father, a relentless entrepreneur who only had one rule when venturing into a new business—that he must know absolutely nothing about it. Naturally, this led to a somewhat mixed record of success, with the attempt to corner the Indonesian mahogany crop being a particularly painful episode.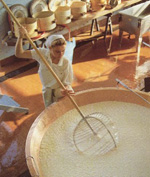 Of course, my wife and I knew nothing about keeping cows or making cheese, so we decided to get to work correcting that. My wife took courses in agriculture at a community college. She got a job as the Livestock Manager at a farm museum. She joined the American Cheese Society and traveled all over taking classes in cheese making.
Meanwhile, I focused my energy on thinking about such things what we should call our cheese, what the label should look like and what I would name the cows. I wanted a theme and finally decided on naming them after the female characters in Anthony Powell's A DANCE TO THE MUSIC OF TIME. (Understand, this was the 90s and I was a TV writer on a development deal, so there was plenty of time for these types of musings).
One day my wife returned from an internship with a cheese maker on Prince Edward Island. I was anxious to hear all about it, but she was evasive and kept changing the subject. Finally, I told her I could see something was wrong and she should just come out and tell me.
"Okay," she said, "but you're not going to like it."
As she downed the rest of her wine, I tried to think of what it could be—Was she ill? Even worse, had she somehow talked to my doctor and learned I was ill? Had she fallen in love with some guy on Prince Edward Island? Maybe a lobsterman? No doubt she told him about how her half of the community property would easily cover all the repairs on his boat. Well, I didn't stay at the studio till midnight eating cold Chinese and trying to think of funny things for characters to say when they made exits so that …
"We can't make cheese."
"What? I said, noticing she was almost on the verge of tears.
"We can't make cheese."
"I thought that's what you went to learn."
"That's what I learned--I learned we can't make cheese."
"Why?"
"For one thing, the equipment costs a fortune. We'll never get it back. We're too old."
Now, I needed some wine.
"And, it's backbreaking work. You have to scrub this giant vat every day. Trust me, I've been doing it for just one week and I feel like I've been hit by a bus. We're too old."
"Yes, you've said that."
"Plus, you have to know a lot about chemistry. If you don't get it right, the cheese tastes terrible and it could even poison somebody."
I was lousy in chemistry. The only way I passed was that my lab partner was pre-med and I agreed to do all the cleaning up if he'd do the experiments. Suddenly in envisioned a litigious tourist from Boston or New York taking a bite of our aged gouda and then dropping to the ground with crippling abdominal pain and blood oozing from the corners of his mouth.
"Okay," I said after we went over it for about fifteen minutes, "what do we do?"
"I've been thinking about it," she said. "I can't make cheese, but I can make a bed and I can make breakfast. Let's do that. A bed and breakfast."
"What about the cows?"
"We can still have them. They'll just be pets."
"Cows aren't pets!" I said, repeating something I'd heard several real farmers say at ALBC conventions.
"Then, think of them as exhibits."
That sounded much better. "It could be a something like a living museum and I could talk to the guests about the animals and why it's important to preserve them."
"That," she said, with relief, "is a great idea."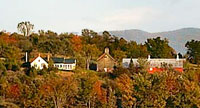 So that's what we did. Now it's been five years. We have a couple of cows, and we even milked for a few years made butter and served it to our guests, after they signed the release. We now serve eggs from our chickens and maple syrup, which we make, with the help of our neighbor, from our trees. We also buy most of our bread and vegetables from neighbors. I really like producing a portion of the food we eat and knowing where most of the rest of it comes from. I enjoy talking about our animals to our guests and they seem very interested for the first fifteen minutes or so.
We're even in the cheese business, in that we own a few cows in the herd of a couple making cheese in much the way we though we would (Dancingcowcheese.com). Of course, they're ten years younger than we are and very good in chemistry.
Flour Bakery's Banana Bread
3¼ cups all-purpose flour
2 teaspoons baking soda
½ teaspoon cinnamon
½ teaspoon salt
4 large eggs at room temp. for 30 minutes
2 1/3 cups sugar
1 cup vegetable oil
3 cups coarsely massed, very ripe bananas (6 large)
1/4 cup creme fraiche
2 teaspoons vanilla
1 1/3 cups walnuts toasted and chopped

Preheat oven to 350°F. Butter 2 metal loaf pans (9x5x3), then dust with flour
knocking out excess.
Sift together 3¼ cups flour, baking soda, cinnamon and salt into a bowl. Beat together eggs andsubar into bowl of electric mixer and medium-high until very thick and pale and mixture forms a ribbon when beater is lifted (about ten minutes). Reduce speed to low and add oil in a slow stream. Mix. Then mix in bananas, creme fraiche and vanilla.
Remove bowl from mixer and fold in flour mixture and walnuts. Divide batter between loaf pans, spreading evenly, and bake in middle of oven until golden brown and a wooden pick or skewer comes out clean (1 to 1¼ hours). Cool loaves in pans on a rack , then turn out onto rack. Turn loaves right side up and cool completely.


Tom Maxwell is a former director of The Groundlings and TV writer. He now lives in Vermont where he and his wife operate Fairy Tale Farm Bed and Breakfast.
Recipe courtesy of the Flour Bakery in Boston, Massachusetts.