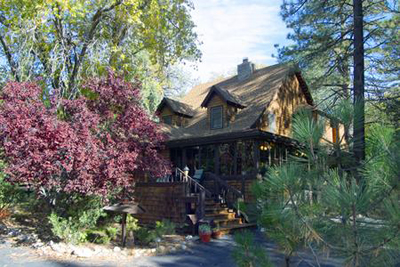 Ah, to be dead and in love. Sounds strange but why can't love transcend dimensions as seems to be the curious case at Idyllwild's Strawberry Creek Inn. The proprietor and chef, Rodney Williams, sometimes felt a warmth, a caress, an alarming brush of passion when alone in one particular room. He ignored it at first but as the sensations continued and he found himself oddly aroused, his curiosity grew. Finally, he called on a group of psychic experts and discovered that in fact, (for those who believe that parapsychology is fact), there was someone or something swooning about the place. Further investigation led to a ghost named Jade. According to the psychics, and there were several in concurrence, Jade, was the spirit of an ancient indigenous woman who occupied the land in life, and she was hanging around because she had fallen madly in love with the handsome Williams. It's a strange romance that he finds comforting.
"She's here to help," he says, "I believe she may be responsible for our extraordinary success."
Jade's infatuated spirit seems to infuse the inn with romance. The award-winning bed and breakfast is a labor of love for Williams and his life-partner, Ian Scott. "So far Jade has not shown any signs of jealousy," laughs Williams, "she seems happy to share me."
The Strawberry Creek Inn, a two-hour drive from Los Angeles, is an ideal place for sharing. From the communal gourmet breakfasts to the comfortable lobby, eclectic library and native gardens, it's a place where guests may mix and mingle or sit back and enjoy the more tranquil charms of Idyllwild, California's enchanted mountain-top village.
It's a refuge from the city for stressed couples longing to rediscover peace and quiet. The village was voted one of the Top Best Places To Kiss in Southern California. No wonder ethereal Jade is preternaturally flush with desire.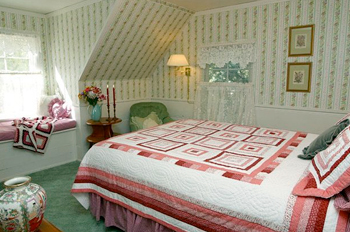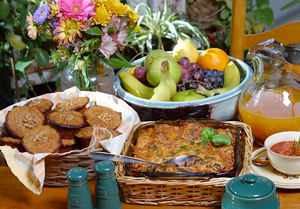 Jade the ghost may have had a loving hand in the inn's success, but real-live guests, unaware of the inn's spiritual patroness, feel drawn to the charming creek-side location, cozy interiors and beautifully decorated rooms. Above all they credit Chef Williams's gourmet breakfasts, which on any given morning may feature the scrumptiously upscale Herb-baked Eggs or the delightfully down-home Shrimp and Grits. But it's the heart-shaped Chocolate Espresso Pancakes with Raspberry Coulis bursting with three purported aphrodisiacs that's sure to make a decadent appearance at Valentine's Day breakfast table.
For the past seven years, Chef Williams has been happy to jot down recipes for the satisfied guests, eager to export a slice of romance home to their everyday lives. At their urging, he recently published a hardbound cookbook, Memorable Mornings From The Strawberry Inn Creek, and it's been selling like, well, heart-shaped pancakes. Whether the book had a lovelorn ghostwriter is yet to be determined.
Chocolate Espresso Pancakes with Raspberry Coulis
A light dessert turned rich, decadent breakfast, this recipe is sure to delight and impress your chocoholic sweetheart.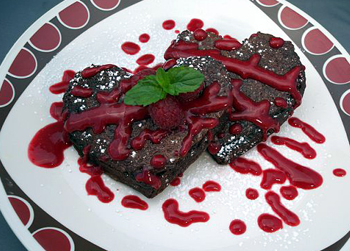 Ingredients:
2 cups All-purpose Flour
3 tablespoons Sugar
1 teaspoon Salt
1 teaspoon Baking Powder
1/2 teaspoon Baking Soda
1/2 cup Cocoa Powder
1 teaspoon Orange zest or dried orange peel
1/2 cup Semi-sweet Chocolate Chips
4 tablespoons Unsalted Butter, melted
2 Large Eggs, separated (separating is optional, but will give a lighter texture and keep the pancakes from being too rich—real chocoholics won't mind the richness)
1½ cups Buttermilk
1/2 cup Brewed Espresso or Strong coffee
1 tablespoon Coffee Liqueur (optional)
1 teaspoon Vanilla Extract
2½ cups Raspberries (fresh or frozen)
1/4 cup Sugar
1 teaspoon lemon juice

Directions:
Sift together 1st 6 ingredients Stir in orange zest and chocolate chips
In a separate bowl combine butter, egg (yolks), buttermilk, espresso, vanilla, & liqueur and whisk well. Pour wet ingredients into dry and whisk just until combined. Do not over-mix!
In a clean bowl, whip egg whites until fluffy. Gently fold egg whites into batter, being careful not to deflate whites. Don't fully incorporate whites into batter; some streaks are OK.
In a blender, combine raspberries, sugar, and lemon juice. Blend until smooth. Pour coulis through a fine strainer, pushing against the sides with a rubber spatula until all of the liquid runs through
Heat a cast-iron skillet or griddle to medium. Brush a thin layer of butter on griddle. Using an ice cream scoop, portion out each pancake and release onto griddle. When edges begin to set, gently flip each pancake and cook for another minute or so, or until set around edges.
Serve with whipped cream (or vanilla ice cream!), raspberry coulis, & fresh raspberries.

Recipe Summary:
Yield: 12 pancakes
Prep Time: 10-15 minutes
Cook Time: 5 minutes
- Recipe and photo courtesy of The Strawberry Creek Inn
Strawberry Creek Inn, 26370 Banning-Idyllwild Panoramic Highway, Idyllwild, CA 92549-1818
Eduardo Santiago is the author of the award-winning novel, Tomorrow They Will Kiss.