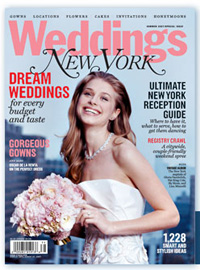 I never had a vision for my wedding.

When my fiancée and I started talking about getting married, the first question was "What kind of wedding should we have?" As most women do, I bought a few wedding magazines to help conceptualize just what the options were for a New York wedding. I am a fairly recent transplant to the city so for me the wedding magazines were research material for venues where such an event could be held. First and foremost, these wedding guides were my tools to uncovering the answer to my most pressing question all. How much does a New York wedding cost?

Now don't get me wrong. I appreciate nice things. I love designer shoes but I won't pay full price for them. They must be on sale. In fact, I rarely pay full price for anything that is not a necessity. My fiancée says it is the Scot in me. Whatever the reason is, I was on a mission to disprove the notion that a wedding had to be expensive and equivalent to a down payment on a house.
Most people have been to weddings and know the formula (the white dress, large tiered cake, dinner, dancing, a room full of flowers, etc.) When you start pricing the "wedding" dress, the "wedding" cake and the "wedding" hair, all of a sudden the price seems to instantly double and triple. There is something about adding the word "wedding" in front of an item that magically increases the cost. Now, I know white dresses can be more difficult to stitch, everything shows up against that light background and they require yards and yards of pricey fabric. But honestly, when the bride is walking down the isle, how many times have you looked at the dress and thought to yourself "Oh she looks so lovely, but is that stitching a little crooked?"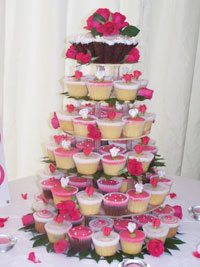 So I chose to approach the planning process by thinking of it not as planning a wedding but instead planning a really fun party. This is extremely liberating, and by removing the word "wedding" the price mysteriously started to drop. I started with dropping the notion that the dress had to be white and the wedding party had to wear a "uniform." Another item removed from the formula was the wedding cake. I never really liked the cutting of the cake. It always seemed contrived and cliché. Half of the people attending had ceased paying attention by this point and quite often the cake itself would be dry and not tasty at all.

So we opted for the increasingly popular (if not completely passé, according to some of the wedding magazines) cupcake as a substitute. I fell in love with the idea of cupcakes. Rarely do you see adults turn their noses up at mac and cheese. The same is true for cupcakes. There is something about the kid in all of us that always seems to be drawn to these childhood foods. The practical side of me loved seeing the price per person reduced by over 50%. Not to mention the fact that we would avoid the cake-cutting fee, a simply outrageous concept. And as a bonus, there are numerous options of flavors and combinations to accommodate everyone's tastes.

The best part of choosing cupcakes as a wedding dessert was the taste testing. After a little online research, I strategically mapped a route to ensure efficient procurement of both a chocolate and a vanilla cupcake from eight bakeries throughout Manhattan. We started on the Upper West Side at Crumbs Bakery and continued down the west side, eventually finishing on the Lower East Side. Then we brought the cupcakes home and tasted them at room temperature, just as they would be at the wedding.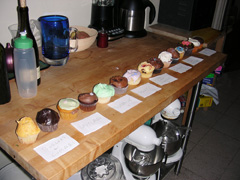 We divided our judging into five categories: cake flavor, cake texture, icing flavor, icing texture and overall appearance. With a total of 15 cupcakes (one store didn't have chocolate), the task of sampling all of the cupcakes was rather daunting. After pushing through several phases of tasting, including a break for Indian food, to help avoid the oncoming diabetic coma, we made a decision. Sugar Sweet Sunshine, located in the Lower East Side, won out. The cake was not overly dry and the icing was not overly sweet (despite the name of the bakery). And there was an added bonus; Sugar Sweet Sunshine was the least expensive of all eight bakeries!!!

For any couple who find themselves in the same situation, I would recommend inviting friends over for a cupcake party. My fiancée and I were quite decisive but for those who find the decision tough, the opinions of a few friends can always make choosing that much easier.
Sugar Sweet Sunshine Bakery
126 Rivington Street
New York, NY 10002
212-995-1960


Heather Mangrum is a New York City based architect. She is engaged to Alex Rader, the director of PODgallery.com. They live and eat in Brooklyn.