Utah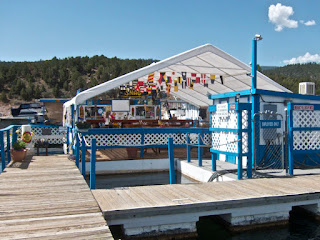 Visiting Dinosaur National Park from Salt Lake City can certainly be done in a long day trip, but if you have more time, base your stay in Vernal with half a dozen comfortable, affordable motels, or at camp sites and cabins in the collection of parks stretching from Vernal to Flaming Gorge, forty-five minutes away. The area around Vernal is home to a mix of federal and Utah state parkland recreational areas with opportunities for horseback, ATV and dirt bike riding, hiking, fishing, river rafting and boating.
Or you can go sight-seeing to enjoy the magnificent landscape by driving into the Flaming Gorge Recreation Area. Stand on the top of the mesa above Red Canyon and look down into the gorge created by the Green River as it cuts through the mountains, widening into a reservoir behind the Flaming Gorge Dam, a mini-sized dam that created a maxi-sized body of water stretching across three states (Utah, Wyoming and Colorado).
If you want to just hang out, doing nothing more strenuous than having a nice lunch, drinking a beer or two and watching the power boats scoot around the lake behind Flaming Gorge Dam, stop at the Snag Bar & Grill at the Cedar Springs Marina and kick back.
New York


by

Cathy Pollak





Trips to New York City have become scarce over the years. Maybe non-existent is a better description.

I don't have family, friends or business in New York. All past trips have been purely...

Read more...

Northern California


by

Amy Sherman





For several years now I'd been hearing about the taco trucks of Fruitvale, a section of Oakland known for having a large Latino population. After reading endless reports on Yelp, Chowhound and an...

Read more...

Florida


by

Ann Nichols





On the second day of our Florida trip, we dined at one of our favorite, always good, "coming home" restaurants in Apalachicola: The Apalachicola Seafood Grill. Located in the heart of "downtown"...

Read more...

Los Angeles


by

Amy Spies





Joe's restaurant on Abbot-Kinney in Venice, California is a delight and a deal. Michelin thinks so, having just given this French-California gem a star. And my entire family agrees, and we are...

Read more...