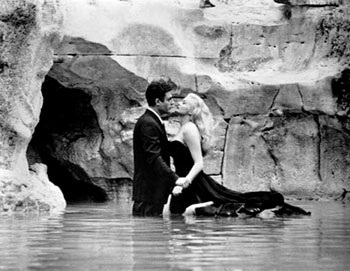 New York's Café Buloud is a divine restaurant, and it is nearly impossible to order an ordinary meal. We were there the other night – our feast before the simpler joys of summer in Martha's Vineyard. Saltimbocca Alla Romana was on the menu. Oh Boy! I haven't seen that on a menu in years! What we received was delicious - stew sized chunks of veal in a thick, dark brown sauce with sweetbread tidbits and a small piece of prosciutto off to the side as an afterthought. A few tiny green specks, which I fantasized to be sage, were stirred in the gravy… Delicious but disappointing! Time to go back to the 1960's and a summer spent in Roma living in my painter's studio just off the Piazza del Popolo, where Marcello Mastroianni would come for his espresso and we all lived La Dolce Vita! "Living" meant buying groceries in the Italian style – Every morning, going from shop to shop fingering the produce, chatting up the butcher, and bargaining in Italian.
I also began to read a bit in Italian – enough to read the local newspapers and cook books.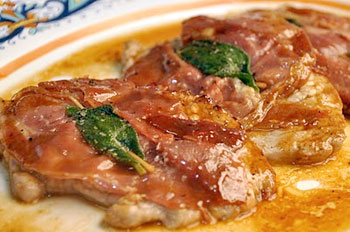 Il Talismano was the standard for Italian chefs then, covering all the regional variations of Italian cooking: Milanese, Bolognese, Venetian, Neapolitan, Sicilian, Veronese and Florentine. The adapted American Edition was but a shadow to the grand Italian tome! I had both, and when I could, I would translate from the Italian.
The recipe for Saltimbocca all Romano takes less than a paragraph in Il Talismano – it is so simple to make – but it is exactly that simplicity in both ingredients and preparation which makes it's name ("Jumps in the Mouth" is the literal translation) so apt! Being inventive with this recipe might give you a tasty dish but it will NOT be the lusty Saltimbocca all Romano!
SALTIMBOCCA ALLA ROMANO
Since this dish is made in no time at all it should be cooked and served immediately. If you are both cook and host, it will be high drama on your part and about a five-minute wait for your guests!
High quality slices of veal scallopine about 6 oz per serving Thinly sliced Parma Prosciutto (1 - 2 slices per veal piece)
1-2 leaves fresh sage. (If this sounds too intense it can be lightly chopped and sprinkled… but "intense" is what makes this dish jump!)
Unsalted butter. (Odd that butter is used rather than olive oil and while this is an iconic Roman dish, it does have this French element.)
Marsala (or White Wine – if you prefer)
Salt and pepper to taste
Place the pieces of veal between two sheets of wax paper and pound with the side of a cleaver… until very thin. Place one or two leaves or sprinkle chopped sage on top of each veal slice.
Place the prosciutto slices on top, covering the veal. (If you use whole sage, it can also be placed last.) Secure with toothpicks. This can be prepared in advance, and left out or refrigerated depending on the time prior to cooking.
In a large skillet melt the butter and place the saltimbocca – veal side down – browning on one side for about 2 minutes then turning and browning on the prosciutto side for about 1 minute more. The secret of this dish is its tenderness. Do not over cook. Remove and place on a warm platter in an oven on very low heat.
Raise the fire under the skillet and add a cup of Marsala After it cooks down a bit, turn the heat off and add about ¼ to ½ stick butter and whisk into a thin sauce. Drizzle delicately over the meat.
Serve immediately with a green vegetable. Yum
There are many recipes for this dish with added ingredients from flour, chicken broth, olive oil, to mozzarella cheese. Please, do yourself a favor and try it simply first. Any added ingredient changes this from jump-from-the-mouth delicious to OK. If you want cheese make a perfect Veal Parmigiana… If you want the unique taste sensation of Saltimbocca stay pure.
Shall we gild a lily? Marsala is sinful. Why not overdose? Another simple and delicious Marsala recipe – and one rather beyond sinful – is the most sensuous of all desserts, Zabaglione.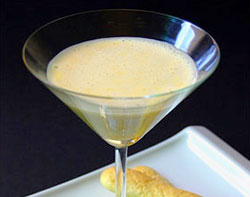 ZABAGLIONE
The ingredients are few:
Sugar - 1 tablespoon per person
Egg yolks 1 per person
Marsala 2 tablespoon per person
Remember, no matter how many people you are making this for, the ratio 1:1:2 applies
Bring water to boil in the bottom of a Bain-marie. Reduce to medium-low heat.
In the top of the upper container (porcelain preferred) whisk or beat with a electric hand blender at medium high speed the egg yolks and sugar until smooth and creamy. Slowly add the Marsala and continue beating until the mixture becomes light and frothy/fluffy/foamy. NEVER COOK THE EGG.
Serve in champagne glasses with biscotti.
Nancy Ellison, award winning photojournalist and celebrity portraitist, has authored fourteen books of photographs, including "Romeo and Juliet: The Love Story in Dance" and "Starlet". Her newest book, "Wagner's Eternal Ring" will be published this September by Rizzoli.