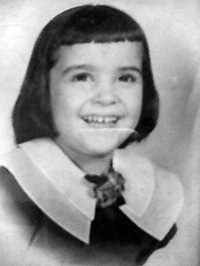 Like a mother hen sweetly teaching their young how to find the water and food bowl is the way our Mother taught us how to appreciate the world of wonderful food that awaited us at a very young age. We were on our first trip to Europe, I was 6 and my sister was 11 when my mother became very ill in Paris. We were staying in the 5th Arrondissement at the Lutetia Hotel and as my mother faded in and out of consciousness she was worried that we needed to eat. She gave us money and told us that we weren't allowed to – #1 not cross any streets and #2 we had to hold each other's hands. We could eat what ever we wanted and we were armed with plenty of francs.
On our first sojourn, we happily discovered a precious little Bistro with a delightful French female owner that surely must have wondered what the story was with the two small hungry American children popping into her restaurant hand in hand. But all curiousness aside, her mission was to feed us and introduce us to French food and maybe our story would unfold. For three days we visited morning, noon and night always hand and hand. As we waited for our meal she placed a tiny kitten in each of our hands to help pass the time until we ate and to make us feel at home.
On the fourth day our Mother was feeling better and we couldn't wait to introduce her to our new friend. We were sure that our Mother could explain to her in French why we had been visiting the Bistro and to thank her for all her effort. Our Mother explained the whole story in rapid fire french and we explained to our Mother that we were ordering for her, as we were very familiar with all the best things to order on the menu. She smiled and let us choose for her. We had lunch there daily for the rest of the 2 weeks.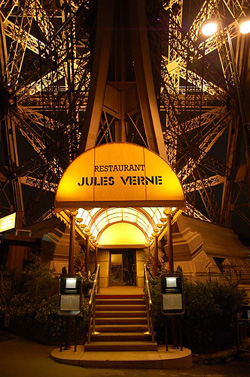 One of the last days of our trip was my Birthday. I had hoped to eat at my favorite new Bistro (nothing has changed), but my Mother said no, she had an even better plan. Something even more special. She had made reservations at the Jules Verne at the Eiffel Tower for my 7th Birthday. As we rode the special elevator to the restaurant all dressed in our finest Kate Greeaway dresses (my sister and I always had matching dresses) the door was opened to a grand dining room. We were greeted and shown to our table in the center of the room under the large chandelier. I still can remember how the leather seat curled around my small frame, the view of Paris lit up at night, the orchestra playing and the giant menu for my small hands to hold.
Fresh trout was on the menu, with piped potatoes and skinny green beans with the freshest toasted almonds, that was for me! Of course I would order the house paté, I was a paté expertafter eating so much paté at my new French friend's restaurant while our mother was sick. We ate slowly taking in all the nuances of a fabulous dinner and watching all the diners around us. The head waiter came to our table at my mother's request and they talked for 5 minutes. They smiled at each other knowingly and he disappeared. I asked what were you two talking about and my mother said that she was complimenting him on such a fine dinner.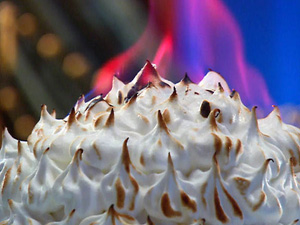 Ten minutes later the lights went out, the whole room gasped thinking the electricity went out. The orchestra started playing softly something that sounded like Happy Birthday and then this long line of waiters appeared all carrying large platters of Baked Alaskas, all 8 of them burning the most beautiful blue in the darken room. The dining room stopped, like everyone was frozen, the orchestra loudly played Happy Birthday to me as everyone sang TO ME, tears rolled down my checks. My mother had requested that everyone share a piece of Baked Alaska to celebrate with us and they all did...
That is when my mother turned to me with the most radiant, knowing look and said my dearest, you will remember this moment for the rest of your life! And I have...
P.S. She wouldn't let us take home the kittens.
Brenda Athanus runs a small gourmet food shop in Belgrade Lakes, Maine with her sister Tanya called the Green Spot.
The Green Spot
This email address is being protected from spambots. You need JavaScript enabled to view it.
207.441.9327