Utah's Dinosaur Bonanza
by David Latt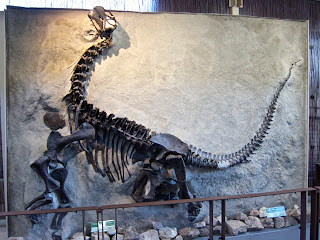 When my sons were young, we loved to read dinosaur books. They turned the pages pointing at the scary tyrannosaurs rex attacking a hapless three-horned triceratops or a silly looking long necked brontosaurus eating the leaves off a tall tree.
Wide-eyed, they asked the obvious question, "Are dinosaurs real?"
Those oddly shaped monsters didn't look like the lions, tigers, elephants and zebras we saw at the zoo. Without the fossil record, nobody would believe dinosaurs ever existed. Recently I was offered a tour of dinosaur sites in Utah, one of the best places on earth of view the fossil record. I jumped at the chance.
My journey back in time began with a trip to the Natural History Museum on the campus of the University of Utah in Salt Lake City. Opened in 2011, the stone colored building is built into the hillside as though it were an ancient creature only half-excavated. The museum focuses on the history of Utah so the creatures and artifacts on display came from excavations in nearby areas. Studies of the earth (geology) and long dead animals and plants (paleontology) can be difficult to understand.
In a kid-friendly way, the museum uses pictures and three-dimensional reliefs to show how rivers and mountains were created, what animals once roamed the valley outside and how massive earth events dramatically changed the landscape from a hot, tropical, wet climate to an inland sea and finally into today's dusty, bone dry desert.
In the dinosaur wing of the museum, couples strolling hand-in-hand and children hurrying from one exhibit to another walk beside the massive skeletons of Utahceratops, Tyrannosaurus Rex, Allosaurus, Stegosaurus, Barosaurus and Camarasaurus.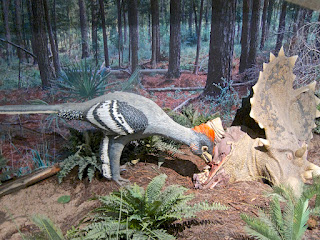 Standing in the cavernous room filled with dinosaur relics, I was struck by the reality that I was standing in the midst of gigantic creatures I would never see alive.
Part of the museum's goal is to give visitors a sense of what life on earth looked like when dinosaurs weren't fossils but flesh and blood. Which led me to ask our guide, Dr. Randall Irmis, a curator at the museum, "What's that smell?"
He pointed in the direction of the life sized replica of a triceratops being picked at by a small bird-like creature. There are many diorama in the museum. The one we were looking at recreated the look, smell and sound of a late Cretaceous marsh, seventy-six million years ago in southern Utah's Kaiparowits ecosystem. Besides bringing to life the long dead world of the dinosaurs, you'll learn a lot about how scientists make sense of all those bits and pieces of rock and dirt.
Irmis pointed to the duckbill dinosaur bones scattered under the glass floor in a exhibit opposite the marsh. This is "what it is like when you find a dinosaur skeleton." The pile of bones looked like dried out scraps from a butcher shop floor. Paleontologists are detectives. What at first sight looks like an odd shaped rock, they'll tell you is actually a knuckle bone and from that one bone they can draw a picture of the entire animal. From the fossil remains, they can separate bones from different animals who lived thousands and sometimes millions of years apart.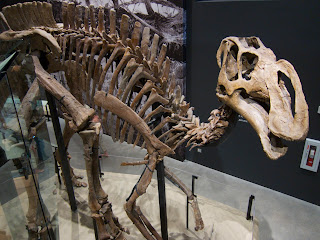 Like the TV forensic scientists on CSI, paleontologists use skeletal remains to understand how, when and why these creatures died. But there isn't always agreement about the explanations. Illustrating how one fact can lead to different explanations, in a video exhibit, three scientists argue about possible meanings behind a discovery that amazed the scientific world.
Excavated from the Cleveland-Lloyd quarry in Central Utah, almost four dozen Allosaurus skeletons were found together. To one scientist that gathering of bones means Allosaurus were social animals, dying together like a herd of cattle in a catastrophe like a flash flood. To other scientists that idea is too sentimental. After listening to their competing views, visitors are invited to vote for one.
There's lots to see at the museum so allow plenty of time for a leisurely stroll where a few steps carry you millions of years as you leave the world of dinosaurs and enter exhibits devoted to the rise of mammals. Woolly mammoths, giant sloths, saber tooth cats, giant bisons and cave bears look more familiar to our modern eyes, but they are creatures of an alien world no less so than the dinosaurs they replaced. Armed with an overview of the world of the dinosaurs, now you are ready to go out into the field to see where the fossils came from, where dinosaurs lived and died.
To Vernal and Back in Time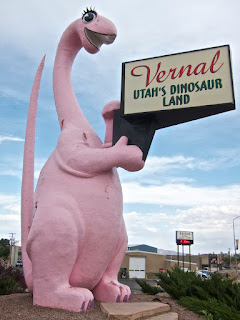 Three hours east of Salt Lake, the small town of Vernal puts visitors smack-dab in the heart of the Green River Formation where dinosaurs lived in great abundance millions of years ago.
In town, you have to stop at the Utah Field House of Natural History State Park Museum, aka the Dinosaur Museum to locals, a mini-me version of Salt Lake City's Natural History Museum where you can get a quick overview of the fossils that have been recovered from the area and see how scientists work in the field.

Kids have plenty of places to play. Areas are set up for children to search in the rocks and sand pits to find pretend-fossils. Science is fun and there are park rangers at the museum who will happily answer questions about the plants and animals that flourished in the Late Jurassic Period (150-145 million years ago), the Eocene Epoch (55-34 million years ago) and the Cenozoic Era (65 million years ago to today).

Once you've finished your tour of the museum, if you are hungry, jog across the street to Tacos El Gordo (395 E. Main Street, Vernal) in an converted Sinclair gas station.The tacqueria and Latin market sells fresh made-to-order authentic Mexican food, sugary pastries, imported sodas and beer and colorful birthday pinatas.
Fortified with good food, now it's time to head to Dinosaur National Park just outside of town.
Dinosaur National Park
At the small farming community of Jensen, a turn off leads visitors alongside the Green River into Dinosaur National Park. The cost is $10.00/car to enter.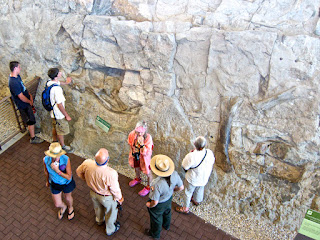 The chief attraction at the park is the Quarry Exhibit Center or the wall of bones. Access to this protected area is by the shuttle which runs every fifteen minutes, leaving from the Visitor's Center where you can purchase the "Tour of the Tilted Rocks," a helpful guide about the park with directions to scenic spots.

The big fossil discovery in the area happened in 1909 when paleontologist Earl Douglass stumbled upon a vast deposit of bones. The area called Split Mountain has the remains of animals and plants that died hundreds of millions of years ago and were deposited near the surface by a combination of earthquakes and erosion.
Douglass used dynamite and pick axes to tear away at the earth, uncovering thousands upon thousands of specimens. As he carted away the fossils he realized he should preserve the site itself because it was as remarkable as the bones.
He ordered that a rich trove of fossils embedded in a rock wall almost as long as a football field and towering five stories be left untouched. Recently, the National Park Service rebuilt the two-story gallery protecting the wall of bones.
In that wall, hundreds upon hundreds of dinosaurs, some small, some mammoth are scrambled together in death, their bones deposited in easy reach of even the littlest of kids. Diorama on the first floor recreate the lush, tropical scene to show where and how the animals lived. That scene is in stark contrast to the dry landscape outside the floor-to-celing windows.
Park Rangers happily answer questions about the exhibit and visitors can stay as long as they like.
David Latt is an Emmy-award winning television producer who turns to cooking to alleviate stress. He shares his experiences with food and his favorite recipes on his blog Men Who Like To Cook.
Maine


by

Brenda Athanus





The A-1 diner at 3 Bridge Street in Gardiner, Maine is an old Worcester Streamliner diner car brought to its present location by truck in 1946 and installed on long Erector-like legs to bring it...

Read more...

Los Angeles


by

Amy Ephron





It was the day after Christmas, we'd had too much sugar and a fair share of post-modern stress so, it was probably a bad idea to try to go "sale" shopping.

And then sort of Saks was off the...

Read more...

Paris


by

Brenda Athanus





While things change so fast in this world, there are still places where time stands still. The face of Paris changes faster every year that I visit and not always for the better. There are more...

Read more...

Boston


by

Kitty Kaufman





It's inauguration Monday. Neither bison nor lobster's on our Cambridge menu but we're celebrating. The first place is "not doing lunch today," so around the corner we go to the second where I'm...

Read more...