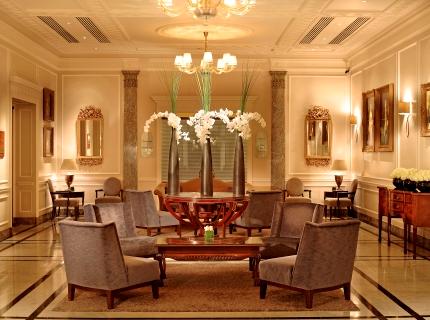 What do you look for when booking a hotel in one of the most tourist attractions of the world, namely London. Perhaps it is good service, perhaps the ambiance, perhaps the restaurant and bars, perhaps the location, and for lovers of comfort, the bedrooms and their amenities. Whatever it is would it not be quite wonderful to find all of these things in one place!
And you can...at The Hyatt Regency London, better known as The Churchill.
A little pricey perhaps but as the old saying goes, "You get what you pay for."
Just stepping into the foyer transports you to a world of glamour, a world of fascinating artwork and enviable service. I say enviable because many other hotels vie for staff as well trained and service oriented as the Churchill staff are. They truly do make a difference to your stay.
Michael Grey, the General Manager, has made his mark in many hotels including the Hyatt Regency Singapore, the Carlton Towers in Knightsbridge and now after a recently completed multi-million pound renovation program, squires his way around this quite stunning property.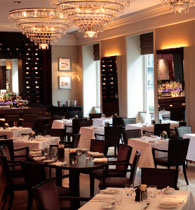 The Montagu – an informal eaterie frequented by guests and neighborhood residents alike has a new chef de Cuisine, Carlos Teixera. He has created a stunning selection of menus using the finest seasonal ingredients. Nothing too fancy, the Montagu during the day offers morning breakfasts, lunches and a little fancier evening dinners. You can enjoy Pigeon Breast with bacon and baby gem lettuce; Lamb Rump with aubergine mash, tarragon and spring carrots and Chicken Breast with grilled asparagus and rosemary jus. Fish lovers can sample Dover Sole, Halibut or Poached Prawn with the usual and sometimes unusual dressings! Desserts like Chocolate Fondant, Warm Cox's orange Apple Crumble with cinnamon Ice-Cream and let us not forget the favorite Sticky Toffee and Date Pudding! The open kitchen offers views of masterful chefs artfully crafting dishes to suit every taste.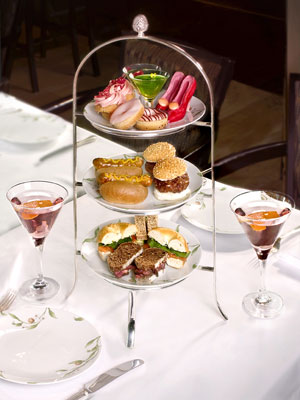 If you are a fan of "Sex and the City 2", why not treat yourself to the "Sex and the City Par-Tea" which is ultimate afternoon tea serving such New York city savory delights as pastrami on rye, mini New York bagels with smoked salmon and cream cheese, mini hotdogs and Jack burgers. Desserts are offered for Carrie, the strawberry-flavoured chocolate pink stiletto; for Charlotte, a mini pink strawberry cupcake, for Samantha an appletini jelly in a mini martini glass; and for Miranda, her favorite diet food, mini glazed doughnut! Sublime cocktails like a Cosmopolitan, a Manhattan, and a Flirtini are also served together with lots of different teas and coffees. This SATC feast is served between 3 pm to 6 pm (through the month of September) and costs £39 per person. You can also include tickets to a showing of SATC 2 in the nearby Everyman Baker Street cinema and even enjoy a chauffeur-driven one-way trip from the Churchill to the cinema.
Who else but the innovative people at the Churchill would go to such lengths to add to their guests' pleasure? So make your next stay in London the best one of your life!
The Churchill Hyatt Regency
30 Portman Square
London, England (United Kingdom) W1H 7BH