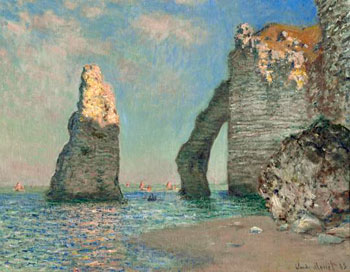 I always enjoy a weekend trip to the Kimbell Art Museum in Ft. Worth. When I found they were hosting an Impressionist exhibit this year, I couldn't have been more excited. The Age of Impressionism: Paintings from the Clark opened on March 11th and continues through June 17th. In fact, Ft. Worth is the sole American city on this exhibit's first-ever international tour.
The Sterling and Francine Clark collection is world-renowned and includes some of the most famous masterpieces of the Impressionist era from Renoir, Monet, Manet, Pisarro, Sisley, Morisot, Gauguin, and more. In fact, the exhibition, a total of 73 paintings, includes 21 pieces by Renoir and 6 by Monet.
Within the exhibit at the Kimbell, there is an entire room of the most beautiful Renoir paintings I've ever seen in one place and in another room, there is a special focus on pieces by Degas. Some of my favorites from the exhibit were Marie-Thérese Durand-Ruel Sewing (1880) by Renoir and A Box at the Theater (At the Concert) (1880), another portrait by Renoir. There are also several breathtaking landscapes. The Cliffs at Étretat (1885) by Monet - took my breath away.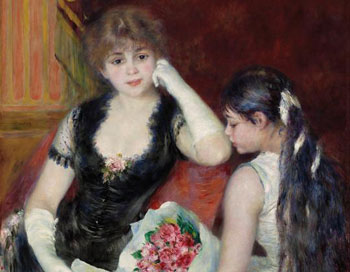 Prior to my visit, I was not aware how truly incredible the Sterling and Francine Clark collection truly is and the amount of famous and recognizable paintings it contains. After seeing so many masterpieces in one exhibit and all on loan from the same institution, I had to learn more about the collectors.
The late Sterling Clark, heir to the Singer sewing machine fortune and his wife, Francine, a Frenchwoman, founded one of the most remarkable personal art collections of paintings, sculptures, and drawings amassed in the early 20th century. The Sterling and Francine Clark Art Institute is located in the Berkshires of western Massachusetts and together with Williams College, sponsors one of the country's leading master's programs in art history.
It was a truly magical opportunity to have the chance to visit so many incredible Impressionist paintings through this exhibit. If you are able to make it to Ft. Worth before June 17th, then the Kimbell is a must-visit. If not, then please learn more about the exhibit's international tour or be sure to visit the Sterling and Francine Clark Institute when the paintings return to their former home.
Haley Schultheis is a writer and blogger based in Dallas, Texas. She founded her blog, Nonsense & Sensibility in 2009 and is a member of the Vogue Influencer Network, the Condé Nast Style Society, and is excited to contribute to One for the Table.