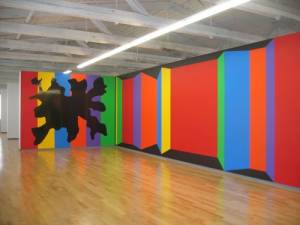 I know I'm usually focused on food, but there are many kinds of sustenance to be savored in this world. This week, we were treated to a feast for our eyes and our souls at the brilliant MASS MoCA in its complex of late 19th century factory buildings in North Adams, Mass.
An entire three floors of the museum house this retrospective of Sol Lewitt's astonishing wall drawings and the old brick of the buildings plays off the sleek surfaces of the art in a stirring dance of line, texture and color.
We almost knew Sol Lewitt. He and his wife, Carol, lived in Umbria not far from where we have a house. Many of our ex-pat friends were close friends of theirs. Many are artists who drew inspiration from Sol. But by the time we arrived, Sol had returned to the states for health reasons. He and Carol lived in Connecticut until he succumbed to cancer in 2007.
Everyone who knew him talks of his generosity, his modesty and of his appetite for all aspects of the good life — friends, food, wine and the beauty and pace of rural Italy.
His art is ecstatic; it asks you to open your mind; it urges you to allow yourself to see what actually stands in front of you. So few of us have the courage to do that.
Michael Tucker is an actor and author whose third book is the recently published Family Meals: Coming Together to Care for an Aging Parent
. You can read more about his food adventures on his blog Notes from a Culinary Wasteland.