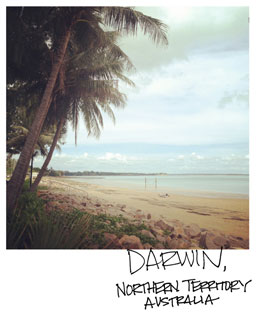 Individual cabins. The dining car. Pre-dinner aperatifs in the lounge. While some people may believe that these amenities are relics of a bygone era of travel, their features and comforts exist on The Ghan, part of Australia's Great Southern Rail Line that connects the Northern Territory to South Australia.
All vintage idealistic notions aside, this Thoroughly Modern Matthew wanted to see if it was possible to go from point A to point B in a velocity I don't travel in that often: S-L-O-W. Would the lack of crowds and technology compliment or confuse me along my journey? Would I tire of a trainride that is the antithesis of fast, modern travel? And could I even survive without wifi?
Well, I did. And I loved every minute of it.
After spending a few days in a very muggy Darwin, I boarded The Ghan as a band played on the platform. It added a vintage send off as I imagined Australian travelers might have experienced decades ago. Had I not been lugging audio and video equipment I might have forgotten I was standing in 2012.
Train travel was once a major method of getting around, and The Ghan, formerly the Afghan Express, has been doing so since 1929. As it cuts through the outback, you realize that this massive area is where camels and trains excel; not much else would be able to make it across this inhospitable trek. The trainline itself was expanded in 2004, allowing travelers to make it completely across Australia, from The Northern Territory all the way to Adelaide in South Australia. I had stops in Katherine and Alice Springs and met such lovely people.
Establishing your bearings on a train requires a slight recalibration of your self. Door frames are small, passageways are long, and traveling from car to car is a balancing act that must be performed at least four times before mastering. It's not unlike an airplane, expect for one small thing. Well, actually it's a large thing that is missing in almost all other modes of travel.
Time and freedom.
Journeys of this nature, the kinds that are measured in days and not hours, afford the hurried traveler moments to actually enjoy the journey. In airplane speak this could mean enjoying the seat in front of you for 9 hours, but on a cross country train ride? You get the ever-changing view of the outback. You get a bar. You get a cabin (if you so choose) to read in, stretch, relax. You also get the interaction of fellow passengers at breakfast, cocktails in the afternoon, and at dinner. You'll never have to dine alone.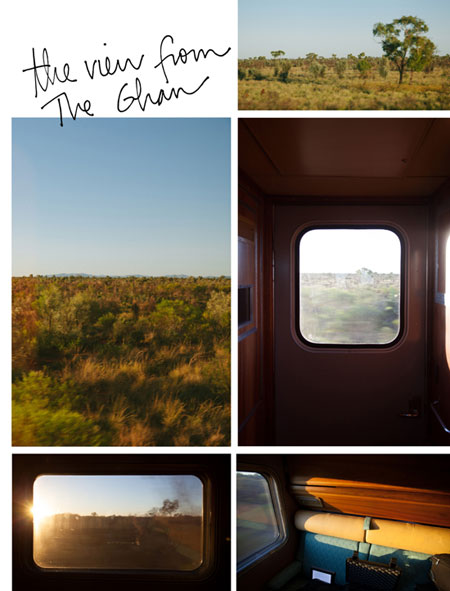 The Ghan itself can be up to 2,329 feet long, depending on the number of travelers. Travel classes vary from Red Service, Gold Service and Platimum, complete with individual cabins and restrooms. My cabin happened to be in a remodeled car, offering me a comfortable room outfitted with classic touches of the past but a bathroom that sparkled with modernity. Cramped yes, but private and the best part? All mine.
My trip on The Ghan coincided with a special ANZAC DAY trip, with the train making special steps throughout the outback for ANZAC ceremonies and events I felt doubly lucky; one part was experiencing a part of Australia not many see, the other half paying witness & tribute to Australian citizens who fought and died in the war.
Believe it or not, you don't really get bored as you travel throughout the outback. At least not on The Ghan. It's easy to get lost in discussions, in a book, or with the changing landscape that passes you outside your window. Native trees, red earth, bushes and tall termite towers fill the view, and before you know it you've spent 30 minutes starting at earth that seems as endless as the milky way. You're only brought back to eart by the train's announcements.
"Ladies and gentleman, dinner with be served shortly. Please make your way to the dining car or lounge soon."
You don't need to ask me twice.
Speaking of dinner, I must admit that this was part of my trip that I was most interested in. Full meals, three times a day, served in a moving restaurant from a galley kitchen no wider than the train car itself.
How? With lots and lots of planning.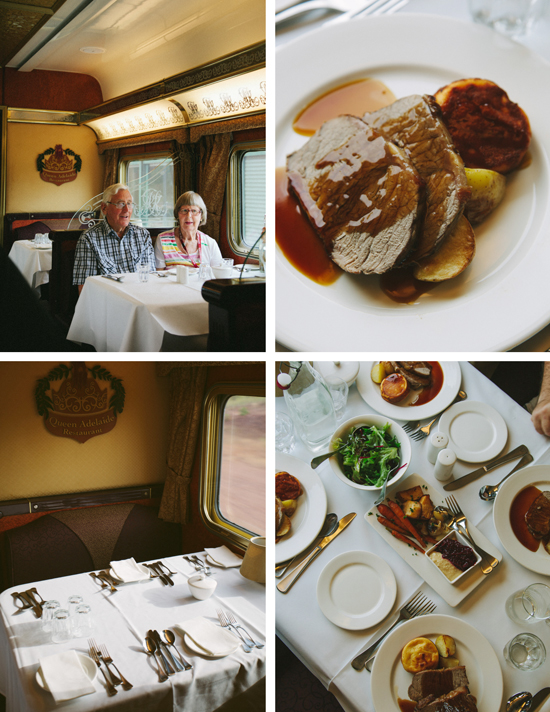 I spent a few minutes in the galley chatting with Russell Seymour, the chef who was responsible for keeping so many travelers well fed. Having worked in a traditional (i.e. stationary) kitchen for most that 20 years, his last three on the Ghan aren't terribly different, save for the space constraints and the fact that the kitchen is powered by electricity and not gas. This affects cooking times, but I was also interested in hearing about the constant movement of the train. He assured me that things like massive pots of boiling water do indeed move around, but guards on the stovetop prevent it from crashing down. And after a while one learns how to do things just as you did before, just as soon as you get used to working in a moving kitchen. One insight? You're always aware of your fingers and pay continual attention to where your hands are while prepping food. I would hope so!
Because of space constraints and that fact that the Ghan runs through the outback, menus are planned with precision, with provisions well laid out before the journey begins. You can't exactly stop by the market to pick up a few missing things, and Chef Russell once told us that an 18-hour train delay in the middle of nowhere forced him to be rather creative. But not to worry, all the passengers remained well-fed three times a day while they waited. That's a professional, folks!
And how was the food? Quite delicious. Getting used to beans and toast for breakfast took no time to adjust to (in fact I miss it!), and a lunch of roast with vegetables and potatoes seemed like the proper thing to do. Kangaroo Steak was also served, which for an American definitely goes down as a first.
While I left my travel companions a bit early and departed The Ghan in Alice Springs, I would have easily continued for the rest of my journey without a moment's hesitation. In fact, it was a unique experience that had me traveling in style and relaxation that allowed me to see a huge part of Australia I might not have otherwise. I do think I'll visit again and take my time traveling throughthe outback this way, and if you're looking for me I'll be the one holding a glass of champagne in the club car.
Thanks to Australia's Great Southern Rail for a lifelong memorable experience! As per FTC disclosure, travel and accommodations were provided by Great Southern Rail.
Matt Armendariz is a writer and photographer who lives in Los Angeles and chronicles his passion for food and travel on his blog MattBites. His latest book is "On a Stick!"