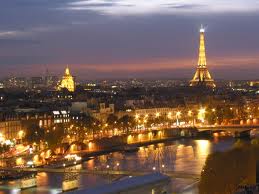 I planned it for months, really almost a year. We all had so much fun in Ireland the year before, that everyone looked to me to plan the next grand birthday celebration. "We" consists of 5 of my best friends, 3 of which, like me, have a December birthday and have also been robbed all these years of having a proper celebration with a birthday in the middle of the holidays. We were making up for it.
I chose Paris. I had not been in years, 2 of the girls had never been and it had been awhile for the other 2. What city could be more spectacular, magical and memorable than Paris in December. Everyone agreed. We knew it would be cold but not as cold as it was for Tina, who lives in Michigan or even those of us who live in Atlanta, which has the worst weather in December. Paris rarely gets snow and ice, average temps are in the high 40's, low 50's and that mixed with the fact that flights are almost empty to Europe in December, it was an excellent choice or so we thought.
I bought a dozen books on Paris and asked everyone I knew for restaurants recommendations (including Amy.) I found out where the best flea markets were, the best place for macarons, and everything we could possibly want to do in Paris.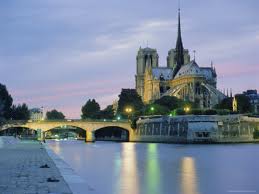 After booking 3 hotel rooms back in the summer, I happen to sit by a guy from Paris at a dinner party one night back in November. He recommended an apartment rental agency that he uses when he has a big group of family or friends in town. The more I looked into, the more it made sense. I chose a gorgeous apartment, 3 bedrooms, 3 bath, a den with a pullout, 1800 square feet, right on the Seine river and a couple of blocks away from Notre Dame. It was less expensive than the 3 hotels and included free internet and long distance calls, not to mention it would just be nice to all be together. I booked it.
I also booked 5 buddy passes, the passes I get every year from my airline employer that cost very little but are standby tickets. I have been flying standby for 20 years and have pretty much gotten anywhere in the world I have wanted to go. I can look at the bookings of any flight and the flights to and from Paris were virtually empty and there were 2 flights a day from Paris to Atlanta so I wasn't the least bit worried we'd all get on. The year before we had all got seats in Business class coming and going to Dublin and I was quite positive this year would be no different.
Elizabeth, Chandler and I booked the later flight on Sunday. Missy was flying non-stop from Philadelphia and she would wait on us at Charles de Gaulle as her flight got in 2 hours before ours did. Tina and Angie would join us the next day. There were 77 empty seats on our flight and 6 standby passengers, whom were also traveling on employee passes.
It was 10 minutes before departure and I thought it was a bit strange that the agent hadn't called us for our seat assignments, but I could look up at the board and see there were still 77 seats empty. Maybe they were just busy. Finally, I saw the agent pick up the microphone and told the others to come on, we were getting our seats. "Ladies and Gentlemen, for those of you traveling on standby, we apologize but due to weight and balance, we will not be able to accommodate any stand by by passengers on this flight.' I was speechless and surely there was a mistake and that is not what I just heard that lady say. Excuse me but if they added 6 more people, the plane would crash? I even told this story to a pilot weeks later and he said you can't even do the math on that. 77 empty seats? Were they carrying a bunch of whale sharks in the cargo?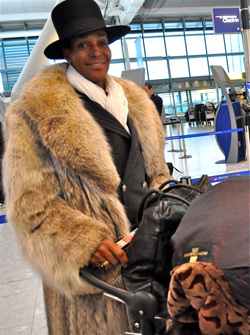 Chandler decided to go home and get on the flight the next day. But Missy was already on her way and the apartment was in my name. It was Sunday night and I couldn't contact the apartment agency until the next day, after she would arrive and I couldn't leave her stranded. The next and only flight to Europe that night was to London. That would work, we would take The Chunnel from London to Paris. We went to the ticket counter to rebook our tickets to London and noticed the 3 others stand by passengers doing the same thing. Our ticket agent was a bit starstruck as one of the stand by passengers was one of the stars from "The Real Housewives of Atlanta." It wasn't one of the 'housewives,' it was Dwight, the male star of the show, the one who stirs up trouble. I had tried to watch the show a few times, to see what all the hooplah was about as it is one of the highest rated shows on tv. I was appalled, these women didn't represent the housewives I know in Atlanta and they really didn't even live in what I consider to be Atlanta. But one day, I was clicking through the channels and saw Dwight. I loved him, he was extravagant, funny and it was the only full episode I ever watched.
The agent was right, it was Dwight. His sister is a flight attendant and he and his 2 friends had gotten some passes from her. I asked them as we were standing in line, if they were going to take The Chunnel. They said they had no clue how they were getting to Paris from London but they'd be following us. I quickly texted a few of my worldly friends to see what the process was to get from Heathrow to The Chunnel. It was complicated but I had the directions; involved trains, subway and taxis. Much to our relief, we all got on the flight to London and as the door was closing, a friend texted me and said The Chunnel was closed indefinitely due to ice. I passed along the information to my 3 new friends and went to sleep.
I woke up and we were landing. I reminded Elizabeth that we had checked our bags on the flight to Paris and if we got stuck we had nothing. Our 3 new friends had done the same. We stuck together and cleared customs together. I might add that our new friends were completely decked out. Dwight had on a 3 piece white suit with an ascot, top hat and full length mink coat as did Jamell and Lamoh. Elizabeth and I were comfortable, meaning we had outfits on with elastic waistbands, outfits you can sleep in and then get up and pretend as if you are off to the gym. People stared at us as we looked like an unlikely group of traveling companions and a lot of folks recognized Dwight. I now know what it feels like to be Angelina Jolie and Brad Pitt.
Miraculously all of our luggage made it to London and Dwight and Lamoh grabbed some luggage carts, and off we went to find the British Airways terminal, which is a 15 minute bus ride away, that is after you spend an hour waiting for your luggage, walking and looking for bus #243. We came up with a plan that I would take my airline I.D. to the British Airways agent and explain that I was trying to take my family to Paris and due to some problems with my airline (which, by the way has no affiliation or code share with BA) that we were stuck in London and could they sell us some discounted tickets. I took a deep breath and approached the very pleasant BA ticket agent. I gave her my spill and she looked past me at my "family."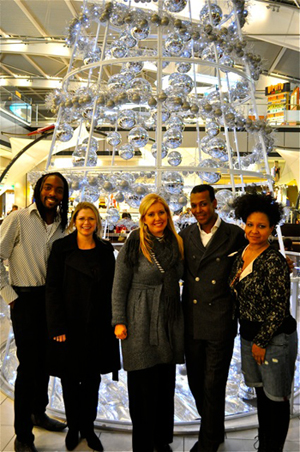 Perhaps I should have thought to ask Dwight, Jamell and Lamoh to hide their minks if were asking for sympathy but they all had pitiful looks on their faces. She types in a few things and says "I can book you and your family on the next flight to Paris at 3pm for 480 pounds." That would be $780 US dollars. "Oh no, I explained, we can't afford that." She typed some more and said "I can book your family on the 7pm flight for 150 pounds." I told her we'd buy the tickets and I asked if there was anyway we could purchase the tickets for the later flight and could be put on the standby list for the earlier flight. She explained "Ma'am, we don't do that but under the circumstances, let me talk to my supervisor and see what I can do." Elizabeth and I bought our tickets and stepped aside so the other 3 could buy theirs. Dwight turned around and handed Elizabeth and me our boarding passes for the earlier flight.
The flight was delayed and we had several hours to kill. We had coffee, lunch, sat by the Heathrow Christmas tree, posed for pictures and carried on as if we had all known each other for years. I don't remember laughing out loud so much as I did that day. We made it to Paris and decided the taxis were too small to fit all of us and our luggage as our 'travel family' would not be separated.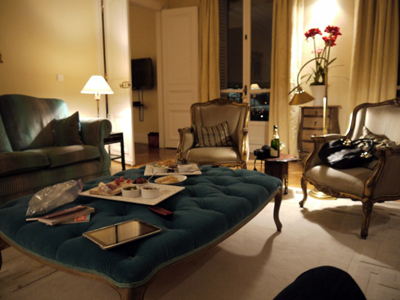 Another 30 minute walk to find a train (don't ever ride the train from the airport to the city) and probably 2 hours after we landed, we were finally in Paris. Their train stop was the one before ours. We assured them we could make it on our own and so they got off. We found the apartment and there was Missy, who had somehow gotten in the apartment and had been there since 10am. It was 8pm and we had been traveling for 36 hours. She had been to the grocery store and had the most fabulous spread of cheese, appetizers and wine I've ever seen and the apartment was beautiful. The other 3 girls made it in the next day without incident. I told them we had plans that night to meet our new friends at The Hemingway Bar at The Ritz, which is, in my opinion, the swankiest bar I know. I loved it and loved every sip of my 30 euro cocktail; we all did and I was happy to see Dwight, Lamoh and Jamell again. They were off to the Ke$ha concert, whom I had never heard of but Tina and Angie had and knew they would be the hero of their pre-adolescent sons so they went with them. The rest of us decided to dine at Nobu at The Ritz.
The next morning we noticed a few snow flurries. Those flurries were the beginning of what would be the biggest snowstorm Paris has seen in 25 years. There were no taxis or buses and the Metro was jam packed like a soccer game in Brazil. The plans we made never happened. The city was shut down but we still had Paris. We also had 3 new friends that, most likely we'd have never met had all turned out the way we planned. I would have never known how much fun it was to make dinner from things in little jars and packages of ready made toast. I would have never known how much fun it was to be stuck in an apartment with my 5 best friends. I could have never planned it more grand than it turned out to be.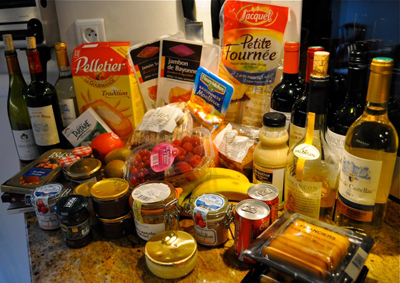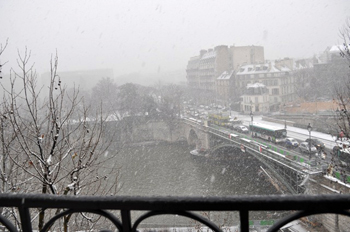 Laura grew up in a small southern town in Georgia on a cotton and pecan farm where life centered around family, friends and good food. She has lived in Atlanta for 20 years and has been a Flight Attendant for a major airline for 18 years, traveling the world in search for the next best meal.