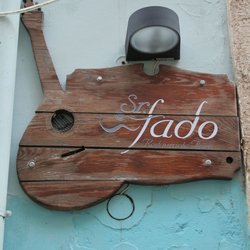 We knew nothing about Fado other than that our friend, Mark Miller, who had lived in Lisbon for a year and basically planned our recent trip to the city, said it is "a must". He promised great food from a host and hostess who will treat us as family and sing traditional Fado songs. "It will be a long night," he warned, "but still you must go to Sr. Fado." He then added, with a touch of a smile, that he should make the reservations. Sr. Fado is hard to get into but over Mark's year living in Lisbon, he and the owners had become close. He called. We were in.
Sr. Fado is owned by Duarte and Marina Santos, though "owner" hardly describes everything they do. It might be better to say that Duarte and Marina Santos are Sr. Fado. Duarte is the front man, meeting the guests, serving the food and bussing the plates. Marina is the cook. Eating at Sr. Fado is like spending a perfect night in what could be a modest Portuguese home, while eating traditional Portuguese foods and hearing its traditional music.
When we entered the restaurant we were greeted with both warmth and a touch of skepticism. "Do you have a reservation? The restaurant is fully booked," was the first thing we were asked by Duarte. (As the night progressed we more than understood his cautious approach as we saw Duarte turn away at least a dozen walk-ins before the last reserved tabled filled, at which point he simply locked the door.) Yes, we had a reservation, we assured Duarte. In fact we were the friends of Mark's. "Mark's friends!!" he beamed. "Marina, Mark's friends are here" he called into the kitchen. Then the hugs.
Duarte and Marina's restaurant holds only about 7 tables, though that night 9 were somehow squeezed into the amazingly tiny room. Even though all the tables had long been booked in advance, one table, most front and center, proclaimed (apparently without irony) to be "Reserved" according to its sign. While this is where Mark's friends get to sit, as we were ushered to our table, it was clear that given the size and tightness of the fit, there couldn't be a "bad table".
As we sat, Duarte introduced us to the people at the table next us who were also Americans. That night, Sr. Fado played host to three tables of Americans, four tables of Spaniards (it was Easter week and we were told by a guide the prior day that during Easter week two out of every three cars on the road in Lisbon are from Spain), and one table each from Italy and Germany. Each guest was greeted by Duarte in their native language and when Marina finally emerged from the kitchen for her first set of applause of the night, she did the same. (The day before when talking to our tour guide, she told us that she is fluent in 7 different languages. It is amazing what we English speakers get away with when it comes to dealing with the rest of the world.)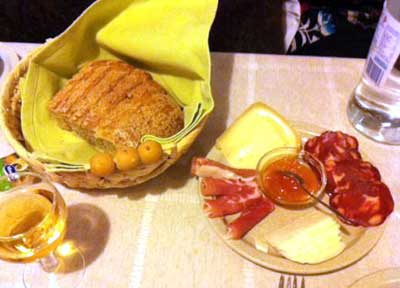 Sitting on our table was a plate of two types of local cheese and some cured hams and salamis. Warm bread was served fresh from the oven. "Do you like the bread?" asked Duarte. We nodded "yes," mouths full. "Marina made it," he said, and this became one of the themes of the night. Marina had also made the sweet pumpkin jam to accompany the cheese and bread. "Did we like the jam?' "Yes, very much." The wine was served in a small carafe, ice cold, very clean and crisp and maybe a touch of sparkle. When the carafe neared empty, it was replaced by another. "Do you like the wine?" Another "yes". "It is from my grapes," or was it his uncle's grapes? If it wasn't the uncle's grapes, then it was the uncle's cheese. Duarte and Marina or some family member had a hand in everything served that night, either as the farmer, cook or vintner. Nothing is left to chance.
As we nibbled on the meats and cheeses and headed to our second carafe of wine, Duarte brought over the menu, but we never got to see it. "Mark said you should have the seafood. Am I correct?" He was, so off he went to give Marina our order, though she must have known it already. We had heard, but couldn't verify without actually seeing a menu, that the only things served at Sr. Fado were a seafood like stew and a meat stew and from what we could tell from the other tables, almost everyone ordered the seafood. Not really surprising as the seafood in Lisbon is just too fresh to pass up. Everything is caught that day and selected for dinner personally by Duarte and Marina. At this point I wouldn't have been surprised had they caught the fish themselves.
With everyone now seated, and all the orders in, Duarte was clearing the first course and refilling wine and waters. The little place was so full that he could barely squeeze by the tables to serve. (We suspected that we were the reason for one of the extra tables that he nudged in at Mark's request.) And then the main course appeared. It was truly a sight. A huge round cooking vessel called a Cataplana, made entirely of gleaming steel, that was sealed with little side clamps. Only one could be carried at a time and then barely through the crowded tables. Once the first pot appeared all heads turned and then Duarte would dash back to the kitchen with everyone hoping they would be served next.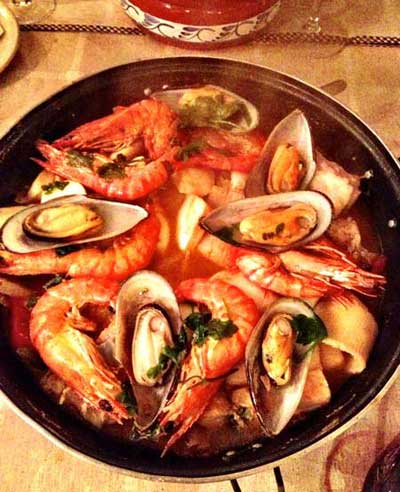 Once placed on the table, the clamps loosened, and the top lifted, the steam enveloped the table, covering our sight lines. As the steam cleared, the most amazing collection of seafood we had seen in one dish was revealed. There were shrimp in the shell with red eyes shining. There were mussels the size of a fist and what I thought were tiny clams – but was to learn the next day while visiting a local market – were cockles, so tiny and sweet and tasting of the sea. There was monkfish cut rough with the bone still in but flesh that peeled away the moment you put fork to it.
Duarte was particularly proud of the skate wing that he had found in the market that day. Not something Marina always gets to add to the dish, he told us. The skate, once devoured, left a dinosaur wing like skeleton sitting on the plate to remind you of what had been.
The entire dish was cooked in a simple broth of tomato, onions, and a few other aromatic vegetables and herbs, and was served with a bowl of steamed rice. The rice did its duty by soaking up enough of the broth to add an extra layer of flavor and texture, but most importantly, it helped dry the plate a bit so that the next heaping portion could be ladled out. Duarte explained that this was a traditional Portuguese seafood stew (though the broth was very light, not what we Americans would think of as stew) and was the kind of meal that would be served at a family gathering – just how the Santos treat their diners.
By now it was almost 11:00 pm, and while we had had a fantastic dinner, we still hadn't heard any Fado. That changed as several of Duarte and Marina's friends started to enter the restaurant - one holding a standard guitar (to go with Duarte's proudly hanging on the wall) and one with a Portuguese guitar, a beautiful twelve steel stringed instrument that is plucked and keeps the melody of the Fado.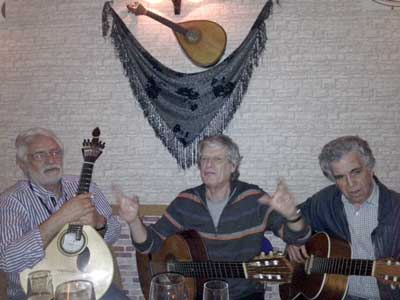 After a bit of table shifting to try to make some room, Duarte and his two other accompanists squeezed to the front of the room. Duarte, speaking in English so that everyone could understand (as I said, what we get away with), started to explain Fado.
Duarte told us that it is unknown how the name first was derived and that the Portuguese guitar is its essential instrument. He told us that the music is often said to be melancholy, but that it needn't be - it just has to evoke a feeling deep from within. And then he told us that the best explanation of Fado is to just listen, at which point he started to play.
And as he played his standard guitar, he was joined by the Portuguese guitar, and its tone and beauty could be felt. And, then, finally he stared to sing – sweet and sad and with words I could not understand, but none that needed to be. Fado is to be felt, and feel it we all did.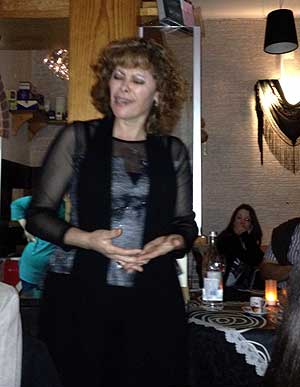 But Duarte is not a singer, he explained, and he called up another friend who took over the singing and as he sang, he was joined by Marina, changed from cook to star as she appeared from across the room in a call and return song.
Marina then took center stage singing alone a poem whose language I couldn't comprehend but whose meaning was clear. Marina singing and Duarte playing next to her, with the Portuguese guitar picking out a beautiful classical sounding melody, loving what they do in the restaurant that they love, will for now, and probably forever more, be my best understanding of Fado.
Admittedly, I know little about music, but what I do know is that when anyone puts as much love into their food and song and desire to make you feel at home and at ease as the Santos do, you can ask for nothing more. Was the Fado we heard perfect – probably, but I don't really know. Was Sr. Fado perfect – absolutely, of that there is no doubt.
Finally, well over an hour into the music, Duarte declared it was time for a break. He knew some of us had to leave and while he would be happy to call a cab for us, if we wanted to stay, the music would go on for hours still and the tables were ours for the night. Sadly, we knew we couldn't make it any longer with another long day ahead, but next time we'll try to stay, and in the end share a night cap with the best host and hostess in Lisbon.
Sr. Fado de Alfama - Rua dos Remedios 176 | Alfama, Lisbon 1100, Portugal
Bob Wyman practices entertainment law as a partner in the firm of Wyman & Isaacs, LLP, but spends much of his time eating and drinking in L.A.