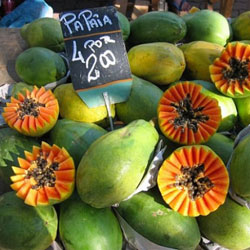 I am not what you would call a creature of habit, but every Sunday morning in Rio, I open my eyes and think Pastels! I throw on my board shorts, slip into my flip-flops and head straight to the local street market. I merge into the flow of Cariocas making their way to the feira. I can see the flower stalls a block away towering tropical blooms of heliconia, birds of paradise, and jungle roses. My flower vendor is Andres, and we have worked out a deal whereby for fifty reals a week, I can take pretty much whatever I can carry. At this price, I keep my apt flowered to within an inch of its life. Some days it looks like a bridal suite in Waikiki. I spend half an hour considering the possible combination of blooms, blowing on blossoms, and for good measure I hand pick a bagful of golden rose petals for scattering. Then set them aside and set out for Food!
I work my way around the perimeter of the market. The air is fragrant with the aroma of passion fruit and mangos. They have a dozen different types of bananas stacked shoulder high, and a dizzying array of rare exotic fruits from the Amazon jungle that are too fragile to make it out of the country, with names like pitanga, jabuticaba, and bacuri. Somebody hauls a giant stingray out of the ice and it lands at my feet. A fishwife is busy filleting fresh anchovies in front of a stack of coconuts as tall as me. The tourists are clutching their purses, the babies are crying, and the dogs are picking at the scraps.
Finally I reach my destination.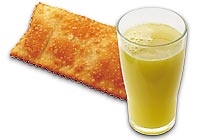 My favorite stall serves only two things, pastels, a sort of fried pie, and caldo de cana, freshly squeezed sugar cane juice. Having trolled the markets of the tropical climes for years, I am well familiar with sugar cane juice. I was never really a fan. It's cloyingly sweet, and a little bland. But then I figured out that what it needs is a healthy dose of fresh lime to transform it into god's own lemonade. I order a juice, and spike it up with lots of lime, and then I order a pastel de carne seca with catupiry.

Carne seca. Dried beef.

The cowboys on the plains used to kill a cow, eat what they could, and then salt and dry the rest for later. A few steaks would get the special treatment of being inserted between the horse and the saddle to be cured in horse sweat on the ride to the next pasture. I have yet to taste that delicacy, but the carne seca or sun dried beef is still a staple of the Brazilian diet.
It is red, hard as a rock, and very salty. To make it fit for consumption is a project. First you must soak it in several changes of water to rid the salt. Then cook it, and shred it into stringy bits. The flavor is intensely beefy. It is an integral ingredient of Fejoida, the national dish of Brazil. Black beans and carne seca cooked with all the flavorful pig bits. Ears, and knuckles and bacon and ham simmered for hours, and then served with ground manioc, fresh collard greens, oranges, and crispy pork rind. Then its naptime.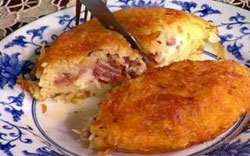 But my favorite recipe for carne seca is served on Sunday morning at the local market when they simmer it with onions, plop a big spoonful onto a thin pastry with a big nugget of rich cream cheese called catupiry and seal it into a pie. Then they slip it into a big steel wok and fry it up into a flaky brown pastel. I order one, drowning in my own saliva while I wait for it to be served very hot, wrapped in a little square of brown paper, translucent with the oil. I bite off just the top so I can inhale the savory puff of steam as it escapes. Then I eat my way around the edge and add a spoon full of salsa fresco made of onions, tomatoes and shredded cabbage. Then I dose it with a splash of fiery orange chile sauce. I wish I wasn't the greedy type, who could savor each bite, but instead I gobble it down like a hungry cowboy. Just before I take my last bite, I order a second. This time, I take the time to eat it right. The trick is to locate the catupiry and maneuver my bites so as to get some of the rich cheese with every salty bite of carne seca.
It is crispy, cheesy, stringy, and crunchy. Intense. I wash it down with the last icy sip of the caldo de cana. The guys at the counter top off my glass for free. I'm a regular. My birthday was on a Sunday this year, and the whole crew sang happy birthday to me that day, right in the market. Off key, and in portugeese, but loud, and sweet as sugar cane.
Dennis contributes recipes and party plans to magazines, teaches cooking classes, and develops recipes for Evolution Foods. He has traveled extensively, circling the globe four times collecting recipes and food lore. Dennis speaks French, with a working knowledge of Spanish and Italian. Today, Dennis continues to cater and cook for events nationwide for diverse clientele.