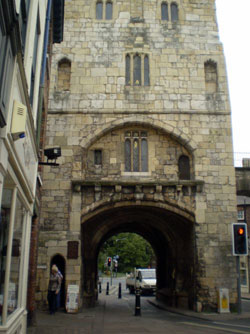 One of the most important historic cities in Great Britain is York. Famous for its towering Minster and ancient walls that surround the city, York was the home to the Romans where in 71 AD the first Roman outpost was created. Today beneath the stage of York Theatre Royal lies a well dating back to that era. An important and spectacular part of the Roman defenses was the Multangular Tower built between 209 and 211 that can be visited on your tour of the walls.
Monk Bar Gatehouse is the most elaborate and ornate of the surviving gates and contains a dedication to King Richard 111 who is revered in this city. The Vikings came to York in the 10th century intending to make it the trading post of their kingdom and you can visit the Jorvik Viking Center to board the state-of-the-art flying capsules and travel back in time to experience the sounds, smells and images of the city of Jorvik in AD 975.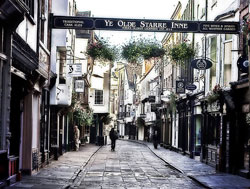 York's winding streets with overhanging beams date back to medieval times and the Shambles is one of the best-preserved shopping streets in Europe lined with quirky boutiques, cafes and bookstores. Georgian York ushered in a period of new elegance still to be seen in many shop fronts in Stonegate. Ghosts, of course, abound in York and every night of the week there are guided walks around the city in search of the supernatural and the unexplained. The Black Swan in Peasholme Green is just one of many York pubs said to be haunted.
York Race Track is one of the oldest in Britain and is where the infamous highwayman, Dick Turpin, was hung on the gallows – so much for his popularized hanging on Tyburn Hill in London! Of course, walking around York Minster is a must. For nearly 1,000 years people have worshipped in this towering edifice developed from a great Roman fortress to the glorious Gothic cathedral of today – the largest medieval cathedral in Northern Europe.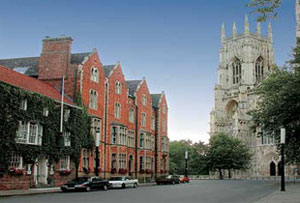 Dean Court Hotel, facing York Minster, is a great place to stay offering comfort, style and the highest standards of accommodation and hospitality as one of York's premier hotels. I do recommend this hotel and their dining room, the D.C.H., for superb cuisine. Overlooking York Minster, you can sit in sartorial splendour enjoying the varied dishes prepared by a knowledgeable chef. As the chief starter, a cappuccino cup filled with a fragrant broth of roasted garlic and lentils, followed by Goat cheese baked in a crisp tartlet decorated with frisee and drizzled with balsamic. The rump of Lamb was pinkly perfect alongside a bouquet of fresh vegetables and layered potatoes. One of my favorite desserts, apple crumble, was served with a pot of hot custard and raspberry coulis while after dinner sweets – luscious dark chocolates, lemon and raspberry Turkish delite and yogurt covered nuts with freshly brewed coffee made a fitting end to a delicious repast.
Dean Court Hotel
Dunscombe Place, York
www.deancourt-york.co.uk